Restaurant Review - The Forge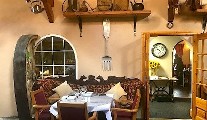 Wednesday 03 October 2018
"If you want to build a fire, where a fire was before, the coal that you burn must be new coal", these lyrics from the musical Carmen Jones, sprung to mind on a recent visit to The Forge in Co. Meath.
The Forge is a very pretty stone-cut building, with meticulously kept gardens, run for a number of years by Pauric and Irene White. They've recently leased the restaurant end of their business to Raymond McArdle, a Northern Ireland chef with a pedigree that includes Deane's in Belfast; a dozen years at the Nuremore Hotel in Carrickmacross, and representing Northern Ireland on the BBC's Great British Menu. I took a spin out for Sunday lunch with my friend Rena, and, frankly, we were disappointed.
Despite the pretty exterior, crossing the doorstep felt like a step back into a tired and fusty world, of, perhaps, The Good Life and Lovejoy. It takes more than turning the key and walking into the kitchen with a few new plates to put one's stamp on a place. Basically, it's a cosmetic issue, and it's nothing a few gallons of Farrow & Ball paint wouldn't have sorted. They also need to ditch the curtains, limp damask tablecloths, moquette upholstery, artificial flowers, and do a ruthless de-clutter job of the shelves and beams – a fine feature in themselves, but dripping with superfluous bric a brac. The Mews in Baltimore, is a similar stone building – but it's crisp, stark and stunning – and it could be the same at The Forge if a skip was ordered pronto.
We were in one of the two dreary back rooms, which, with three generational family groups, were fairly packed, uncomfortably hot, and felt like we were all crammed in for 'the feed'.
The four-course Sunday Menu, running from 1pm–6pm, was €32.50, and featured seven starters, including roast pear and goats' cheese salad, hazelnuts and elderflower balsamic; and crisp potato skins with Tom Doherty Bacon, Knockanore cheese and garlic. Seafood tagliatelle with a prawn veloute was served in a pretty bowl, but it was hard to get any sense of a prawn veloute as it was overpowered by strong smoked fish. "Fine, but not memorable", Rena said, extracting a bone, and what looked like a bit of wrapping or kitchen paper, which went back on the under-plate without a comment from the waiter. Crab roll for me, a big chunky number in thick pastry, was equally unmemorable, as was the 'mango and chilli dressing', which seemed very similar to a commercial chilli sauce with the addition of a couple of pomegranate seeds and diced mango.
With two beef dishes, the mains were a carnivores delight. A slow cooked rump was with black pudding, creamed potatoes and pepper sauce, while a dry-aged sirloin (€5 supplement) was with triple cooked chips, onion rings and pepper cream. A pork rib-eye steak with black pudding sausage roll, pork scratchings, and mustard sauce featured also. Rena chose the fish special of hake with a garlic mash and prawns, which she enjoyed, while I had the roast lamb, a fine sliced rump, with kale, carrots, and lamb gravy on the side. Mains were accompanied by little pots of potatoes and a carrot/swede mix.
Desserts included a warm chocolate brownie; strawberries and ice-cream; and baked Alaska. Rena chose creamed rice pudding, which was billed with roasted almonds and 'flat peaches', which they advised had been replaced with strawberries. I had a very nice white chocolate fool topped with raspberries and a raspberry granita. The "fourth" course was coffee, which was billed with chocolate salted caramels, but arrived sans chocs.
There were only two each of white and red wines available by the glass and no half bottles or 500ml carafes. So, with two glasses of Australian Murphy's Chardonnay (€6.50 each) and very pleasant service, our bill came to €85.50.
Dinner is a 4-course set menu at €40, very similar to what we had, but they also have a 3-course vegetarian menu at €30, which I was given on departure but wished they'd had available on our visit or incorporated on the Sunday lunch menu.
I appreciate that a certain element of the traditional Sunday lunch is necessary, but nowadays, apart from carverys and dated restaurants, the whole dining scene has swapped out the heavy dishes in favour of lighter food presentations.
The Forge
Pottlereagh, Kells, Co. Meath.
Tel: (046) 924-5003
theforgerestaurant.ie
lucindaosullivan.com
First Published In The Sunday Independent