Restaurant Review - Steps Of Rome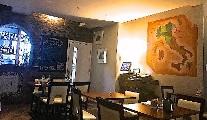 Wednesday 26 September 2018
It took three attempts before my friend Mary and I got to visit the Steps of Rome. I speak not of the Eternal City but a restaurant of the same name at Windy Arbour in Dundrum. 'What's the problem, what took you so long?' Well, the parking for one! It's located on a height, on a busy, prominent corner skirting Dundrum Road and Bird Avenue. The first time we ventured there, we couldn't find anywhere to park; the second time, having found a spot, they couldn't take us. On our third try, we rolled up without a booking, in case we couldn't park, and were 'lucky' in both regards.
For many years, The Steps of Rome was a slick citified restaurant on Chatham Street. It was tiny but had a sort of iconic status of authenticity and atmosphere, a feeling of almost having discovered some little tucked nook in Italy. A couple of years ago, it upped sticks and moved into the 'neighbourhood' market.
A young girl greeted us and pointed us to a tight table for two in the middle of the floor, where we'd have had no option but to be eavesdropping on a romantic couple. It was midweek and it wasn't very busy so she did acquiesce to our request to sit at a larger table to the side of the room. I can never understand how staff in restaurants seem to get a perverse pleasure in sticking you at a bum table when there are other options which are guaranteed to put a smile on your face. Are they holding out for that bird in the bush, or do they just want to torture you first and then do you a favour by letting you sit somewhere decent?
It was not particularly cheap we noted, with seven out ten of the antipasti selection running €10.90 to €14.90, including carpaccio di bresaola, thin slices of cured beef, with rocket at €14.90; smoked salmon terrine at €12.90 and the old Italian fave of melanzane all Parmigiana – sliced aubergines layered with Parmesan and tomato sauce at €11.90. We decided to share a blackboard special of an "Alps mountains cheese" called Tallegio dorrata (€10.50). However, our vision of the crisp clear Alps vanished as one deep-fried cheese croquette arrived with a battle dress crumb coating, a few wilted and dry leaves, and smudges of a thick jammy sauce. It certainly didn't have us yodeling'. It was very bad value and we quickly turned to our focaccia (€5.50) to fill us up.
A step up
There was lots to choose from for the mains, with a wide selection of pastas (€13.50–€19.90), and pizzas (€13.90–€14.90). Their La Carne and Il Pesce dishes (€18.50–€28) included filetto al pepe verde; saltimbocca alla Romana – fine veal topped with prosciutto and sage; grilled lamb 'ribs'; a brace of chicken dishes; as well as seabass and cod.
The mains did prove better with Mary enjoying her grigliata mista (€23), a selection of chargrilled fish which included seabass, haddock, calamari, and a skewer of king prawns with parsley pesto and a citronette dressing. I too enjoyed my tagliatelle agli scampi (€18.90) – tagliatelle with Dublin Bay prawns and cherry tomatoes in a garlic white wine sauce. However, interestingly enough, that dish is priced at €15.90 on their website.
In a world that has gone ice-cream mad, the gelato only featured three basic flavours, vanilla, chocolate and strawberry. Desserts were €7.50, including limoncello cheesecake, chocolate fondant, and tiramisu, on which we passed. Mary satisfied her coffee and dessert desire with an espresso affogato (€4.90) – a blob of vanilla ice-cream in coffee.
Wines were ambitiously priced, with the cheapest bottle being €28.90, or €7.90 by the glass. Everything else was well over €30. We had two glasses Bertaini Due Uve (€8.90 each), a delicious 50/50 blend of fruity Sauvignon Blanc and tangy crisp Pinot Grigio, from the Venezia Giulia region of Northern Italy, to the east of Venice, incorporating the Dolomite Mountains and bordering Austria, Slovenia and running down to the Adriatic sea.
We were served filtered water, which at €2.50 for 750ml, I think is too pricey. My preference is for sealed, branded bottles. Our bill with service, came to €92.
Steps of Rome
1 Bird Avenue,
Dublin 14.
Tel: (01) 567-2022
stepsofrome.ie
lucindaosullivan.com
First Published In The Sunday Independent