Restaurant Review - The Grayson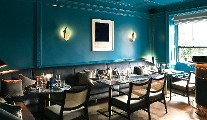 Wednesday 19 September 2018
Ten years on from its opening in 2008, the former Residence, with a new moniker, new owners and a refurb job, looks set for a rocking future. Gone is the idea of this beautiful 3-storey over basement Georgian building on St. Stephen's Green being a fee-paying private members club, as set up by the Stokes twins, Christian and Simon. New owners, the Press Up Group, say they want visitors to feel like they're arriving at the best party in town, and everyone's invited. Gone too is the de rigueur French chateaux shabby-chic decor of the period – designed by the twins' mother Pia Bang; it has been replaced with Italian marble, rosewood veneers and bronze, with cocktail bars on each floor.
The long and winding road
We passed through the intimate ground floor bar on our way to the glass-topped Atrium bar at the rear of the building. On the ground floor, they serve casual lunches like steak sandwiches from 12pm-3pm on weekdays, or bar snacks at any time.
The Atrium bar is long and narrow – with a few high tables and stools – and was already heaving with parties of 'Prosecco ladies' who, like German tourists with the sun-loungers of Europe, seem to think it's their God given right to hold stools and tables with their jackets, as they disappear for a fag or to socialize elsewhere. However, a very nice young barman hunted out a couple of stools for us while Rena had a Dingle gin & tonic (€10.10) and I had a Campari & soda (€9.40).
It was then a steep hike up the splendid winding staircase for dinner. The general layout is as before, with a number of small dining rooms being the thing. We were brought to the top floor, to what in Georgian days would have been the original drawing room, with a glorious view over St. Stephen's Green. Painted in a vibrant deep turquoise cum peacock blue, it too has a colourful cocktail bar and very comfortable banquette seating at each end of the room.
Reboli's rare talents
The music was hopping as we got down to the serious, though delicious, business of assessing Head Chef, Jacson Reboli's food, with which we were very impressed.
Starters (€11.50-€14.50) included stracciatella with roasted peaches, mixed beetroot and pistachio salad, while a whole king prawn, tempura prawn and baby prawn salad, was served with Bloody Mary jelly and Baby Gem leaves. Rena's quite perfect, and thoroughly enjoyed, rare in the centre sesame-seared tuna (€13.50), was coated with rice and sesame seeds, with an avocado and wasabi puree, watermelon and pink ginger. I had pan-fried scallop (€14.00) which was exquisitely delicate with its caramelized fennel puree, oriental radish and scallop roe dust.
The seven mains (€16.50-€32) were well priced, considering the plush surroundings, great service and indeed what the food delivered. Two steaks, fillet and rib-eye, should satisfy the serious carnivore, while duck breast and confit leg-meat were with crushed sweet potato, charred broccoli and duck jus. A tranch of meaty fried halibut (€30) with crispy okra, spicy 'Nduja Ratte potatoes, toasted sweetcorn and samphire sea herbs was superb. Rena loved her pan-fried gnocchi (€17.50) with roasted butternut squash, baby spinach, ricotta and multiseed crust, which was surprisingly light as a feather. We shared excellent sides of a salad (€5.50) of Bumblebee leaves, mixed beetroot, heirloom tomatoes, feta whip and smoked almonds; and spears of crispy tempura courgettes (€5) with a chilli mayonnaise. Courgettes are hot right now as they're a fave of Meghan Markle – they contain virtually no calories; she apparently makes a great spaghetti sauce for Harry out of them!
The beat goes on...
Desserts (€8/€10) included chocolate delice; apple tarte tatin; and blueberry and lemon cheesecake. We shared two scoops (€2.50 each) of ice-cream and sorbet – salted caramel and yoghurt – and an excellent artisan Irish cheese board (€11) with Cashel Blue, Gubbeen and Vintage cheddar, with quince, walnuts, breadsticks, crackers and grapes.
So, with a delicious bottle of Austrian Domaine Wacheu Gruner Vetliner Federspiel (€45) and two waters (€5 each), our bill, with service, came to €193.60.
The music was getting louder and the bars were packed as we departed into the night…
The Grayson
41 St. Stephen's Green, Dublin 2.
Tel: (01) 683-3680
thegrayson.ie
lucindaosullivan.com
First Published In The Sunday Independent