Restaurant Review - Cookes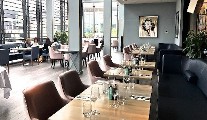 Wednesday 05 September 2018
Harvey Nick's will be forever embedded in a certain generation's minds as being the de rigueur shopping venue of the Ab-Fab duo, Edina and Patsy, who rocked up to the Knightsbridge mothership swigging bottles of 'Bolly', darling. That hilariously over the top attitude was still very much in play in pre-recession 2005, when Harvey Nichols opened their boutique Dublin branch at Dundrum Town Centre, with a massive whoopla, drawing eager fashionistas and the glitterati to be welcomed with Prosecco and scones. I remember reviewing the top-floor glass-box restaurant back then, when Thomas Haughton (ex Patrick Guilbaud's and now at the Portmarnock Hotel) headed up the kitchen. However, it was a bit stiff, and after a few recessionary years, with the Bolly Stolly drying up, it closed. Niall Sabongi later ran it as Rock Lobster for a while, but headed for Temple Bar with his Klaw crabshack followed by Klaw Poke on Capel Street, and the super Seafood Cafe on Fownes Street.
Filling the void
For the last two years, the glass box, which juts out from the side of Harvey Nicks, has been as empty and dark as the Marie Celeste – but now, Johnnie Cooke has come aboard. JC also runs The Restaurant, and its sibling Green & Bean Cafe, at Brown Thomas, and would be best known for Cooke's Cafe on South William Street, which he reigned over for 17 years, up to 2008. CC wasn't just any old caff, it was the coolest place in town, the hang out of the rock 'n roll set, from Naomi Campbell to Bob Dylan – apart from our own music heads and entourages.
It's not easy to get people into upstairs restaurants – they have to be destination dining – such as Indian or Chinese – or be damn good. Anyway, feeling a tad skeptical about this latest incarnation, 'Patsy' and I rocketed skywards in the direct elevator (naturally) to the Harvey Nick's glass box to be pleasantly surprised. They've removed a glass wall separating the bar from the restaurant, and a mix of French blue and pink seating has softened the striking steel grey girders.
An elegant Cooke
Cooke is a seasoned operator, doing great casual sophisticated food with a Mediterranean bent – never twiddly or pretentious, just elegant food you want to eat. The breakfast offering had eggs any which way from €10.50, including a herby egg-white omelette with goat's cheese; the Full Irish (€13), and Eggs Benny galore up to Lobster Benedict (€25).
An Irish Seafood sharing platter was €42, while Irish Diver scallops, and fried calamari featured as light brunch numbers. Cooke's classics (€12-€28) featured Zarzuela, a fisherman's stew of scallops, prawns, mussels and clams, in a marinara sauce; plus braised beef short ribs; striploin steak; pizzas and pasta.
We kicked off sharing a tian of fresh and zingy Lambay Island crab (€15) with a wonderful salad of baby greens, red endive, radishes and asparagus sprinkled with a mango Champagne vinaigrette. Herself followed up with a Lobster pizza (€26), which she liked but didn't love. It was a perfect pizza per se, but perhaps the lobster might be better on a white pizza, oozing a creamy cheesy base, as she found the tomato sauce overpowering, plus she didn't like the avocado topping with it either. Someone else will no doubt love it.
I loved my Dover Sole (€30 market price) on the bone (they will of course fillet it). Served Grenoble style with baby Sicilian capers, croutons, herbs, lemon butter, baby potatoes, asparagus, and cherry tomatoes, it was a perfect summer lunch.
A couple of tarts
We were hard put to choose desserts, which were so good and just a steal at €7. Eschewing an F Off Chocolate pot and apple Calvados cake, 'Patsy' enjoyed a Sicilian lemon tart with superb raspberry ice-cream, while I had a divine almond Tarta Santiago,with Pedro Ximenez and vanilla ice-cream. With two glasses of delicious Piedra del Mar Albarino (€9.70), bottled water (€6), and excellent service, our bill came to €122.
The dinner menu is similar with a few additions. They also have a weekday supper 2/3 course menu at €22/€26, and a casual bar menu. Once again, the restaurant at Harvey Nicks is ab-fab.
Cookes Restaurant
Harvey Nichols,
Pembroke District,
Dundrum Town Centre, Dublin 16.
Tel: (01) 296-2441
johnniecooke.ie
info@lucindaosullivan.com
First Published In The Sunday Independent