Restaurant Review - Daata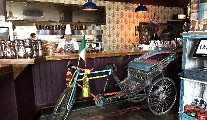 Wednesday 12 September 2018
With a certain sameness to brunches all over the country – the old Eggs Benny and Prosecco cocktails – I was on a mission, one sunny Sunday, to try something different at Daata, a Pakastani restaurant.
Daata have two family-owned restaurants; one in Bray, run by Mohammed and Shamim Salm and their son Fahad, which I haven't been in, and the more recently opened Greystones branch, run by their nephew Waseem Saeed and his wife Rahat, who is the Head Chef. Let's face it, female chefs, particularly Head Chefs, are in the minority, and I was delighted that the kitchen was helmed by the charming Rahat, who has been a chef for 20 years.
They've created a very sociable and colourful space here, in the retro style of the old Irani cafes, where people of all walks of life could gather to discuss the world, over delicious small or large dishes at good prices. A large Persian carpet on the floor blends with an antique desk, a myriad of old pictures, tall urns with leafy plants, while another section features colourful Bollywood film posters, mirrors and an old-style illuminated box over a door leading you to the 'Washrooms'.
Assessing the Daata
Comfortably ensconced on a leather banquette, we perused the menu with some Breakfast lassis – lovely cooling combos of yoghurt, one blended with mango, and the other banana (€4 each). There was so much we wanted to try, but, there is a limit and we'll just have to return.
Tandoor fruit salad (€6) had seasonal fruits marinated in their special blend of spices, cooked in the tandoori oven and served with mint yoghurt. Porridge (€4.50) made from organic oats was available two ways – cooked with milk, cinnamon and honey, or cooked with almonds, pistachio, sultanas and lightly spiced fruit. Egg naan roll (€7) had two fried eggs with saffron, while Lahori omelette (€9) was a 3-egg omelette with chopped tomatoes, onion, fresh coriander and green chilli, served with fresh paratha bread – a very fine flatbread made by frying it in a tawa – an Indian frying pan. I love its lightness, almost like a very fine crispy crepe. The Full Nashta (breakfast) (€12), I guess, would be the equivalent of our vegetarian Full Irish, having aloo anday – potato and egg curry – fried egg, masala beans, mixed achaar (pickles) dip and grilled tomatoes served with fresh paratha.
Naans & pans
We kicked off with a Ka-bomb (€3) each. These are street food faves, savoury feather-light pastry 'lantern balls' stuffed with potatoes, fresh coriander and onion, sitting on little shot glasses holding tamarind jus. You tip the jus into the top of the ball, and pop the whole lot in your mouth in one go (trying not to spill it down your front).
Brendan followed up with a Takatak naan roll €9) – soft delicious flatbread, topped with lightly spiced minced lamb and tikka chicken. It was pretty large, but he happily got the job done – it would certainly be the thing to have if you'd had a hard night! I ordered aloo anday (€9) and pav bajee (€8), both of which arrived in little copper pans with appropriate accompanying breads. Aloo anday is a traditional Punjabi nashta dish, a lovely potato and egg curry, not hot, served with lots of heavenly paratha. The pav bajee was also delicious, spicier than the aloo anday, a blend of mixed vegetables with beans, cauliflower and lots of other bits, and served with a sinful buttery brioche bun.
Sweet surrender
Himself was full to the gunnels, as was I, but I had to try the Tandoori halwa (€4) – you just don't see it that often on menus. A sweet dense dessert, popular in Middle Eastern countries and the SubContinent, it's made with cooked-down carrots or other root veg with various tweaks of nuts, fruits and spices. The Daata version arrived looking like a carrot on the plate and was a delicious mix of carrots, almonds, coconut and sultanas, topped with caramelised mango and cherry.
The Daata dinner menu has an extensive range of dishes that I just have to get back and try, including Lahori spiced lamb; Famous Afghani Chicken; Garlic Chilli Chicken and Mughalai prawns. They also have a 3-course children's menu at €10, including a drink and a colouring page.
Our bill, with water (€2) and service, came to €51.
Daata
Zoe House, Church Road,
Greystones, Co. Wicklow.
Tel: (01) 287-8100
daata.ie
lucindaosullivan.com
First Published In The Sunday Independent