Our Latest Great Place To Eat - The Dough Bros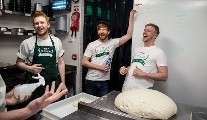 Tuesday 04 September 2018
Quickly making a name for themselves, it didn't take long for pizza aficionados to get a sniff of The Dough Bros' authentic wood-fired pizzas, and soon their talent and hard work had translated into the opening of their hip hot restaurant, right smack in the middle of the city.
The city of tribes is always bursting with life, and I love having an excuse to head out west. So, on the spur of the moment, following a short phone call to pal Rena, we were en route.
Casual and cool throughout, The Dough Bros was exactly the sort of spot I was expecting; hip and funky and just the sort of relaxed vibe that people love. Dedicated firmly to the pizza experience, it's all about za at Dough Bros with sides of garlic firebread or "bros'chetta" being the only available extras.
For diners who perhaps aren't eager to step outside their comfort zone, they have the 'Usual Suspects' which includes all the old faves with Margherita, posh pepperoni, and a proper ham & mushroom all making the bill. They also offer a range of classic Neapolitan pizza, all of which are named for famous Italian football players, from an Andrea Pirlo with fresh basil, grated Parmesan, Buffalo mozzarella and extra virgin olive oil; to a Gianfranco Zola with Buffalo mozzarella, fior di latte, Gorgonzola, Parmesan, fresh basil all on a Bianca base. They also offer a selection of signature pizza which includes a tandoori chicken number with fresh chilli's, a mint and cucumber yoghurt, fresh coriander and a lime wedge; as well as their Hey Pesto with Killeen goat's cheese, balsamic red onions, semi-sundried tomatoes, rocket and parmesan. Rena opted for their Hail Caesar, which proved a tasty choice indeed, topped with lemon chicken, smoked pancetta, fresh rocket, a Caesar sauce, croutons and parmesan and earned a big thumbs up from her. Meanwhile, I'd set my sights on their prawn po'boy with fresh garlic and chilli prawns, pickled daikon, fresh coriander and a burnt chilli emulsion, which tasted fab and had a very pleasant kick to it.