Restaurant Review - The Ivy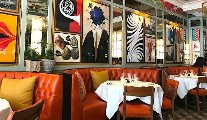 Wednesday 29 August 2018
It's big, it's brash, it's in your face, but I began to wonder if The Ivy was all fur coat and no knickers as our lovely waiter told me that the kitchen wouldn't crack and de-shell the claws of the lobster I'd ordered.
The original legendary London restaurant started life in 1917, as an unlicensed cafe in the heart of the West End's theatreland, and soon became the spot for actors to refuel and unwind post show. The 'smell of the greasepaint, roar of the crowd' clientele attracted the stage-door Johnnies and socialites of the day. It was never about the food, middle of the road Italian for many years, but the celebrity buzz – possibly rubbing shoulders with everyone from Laurence Olivier to Vivien Leigh to the modern day Beckhams and Clooneys. Fading in the late 80s, it was revived by dynamic duo Chris Corbin and Jeremy King, who actually met while working at Langan's Brasserie, owned by the outrageous Dubliner, Peter Langan, and actor Michael Caine. Corbin & King also went on to open one of London's most popular restaurants, The Wolseley, which I love.
Making an entrance
The Ivy is now owned by Caprice Holdings, who broadened the concept, opening 27 other restaurants, cafes and brasseries since 2014, with Dublin being the first outside the U.K. They arrived in Dublin in a whirl of PR overkill. However, in the past, branded big boys like Gordon Ramsay, Gary Rhodes and Jean Christophe Novelli, have stormed in with their reps for celebrity and exclusivity, but all crept out without a whimper. Just as the Queen smiled at Trump, having seen off better than him many times in the past, Dubliner's aren't blown away by posturing and flash.
Set in the new One Molesworth building on Dawson Street, it's a 150-seater brasserie in the style of the lavishly embellished classical Parisian greats, such as La Couple and Bofinger, but here the extravagantly lush jungle decor screams Carmen Miranda, with music to match.
All day eating
Opening for breakfast from 7am, the full-Irish costs €15.95, though eggs Benedict are a modest enough €9.95. An All Day Menu starts at 11.30am, with a list of G&T cocktails (€10/€13). Starters (€6.95-€16.95) include oysters, duck liver parfait, smoked salmon, scallops, and steak tartare. There's something for everyone, with mains (€14.50-€42.50) – fish & chips, hamburgers, crab linguine, up to monkfish & prawn curry, steaks, and the grilled whole lobster.
There was a bit of a push on nibbles 'for the table' – olives, truffle arancini et al (€3.75-€6.75) – while we had a glass of house Champagne (€13 each), but we kept our hand on our halfpenny, ordering our starters of crispy duck salad (€9.75) and crab and watermelon (€6.50). The Asian-style duck salad looked well with toasted cashews, watermelon, beansprouts, coriander, ginger and five spice dressing but could weigh in more heavily on the spicing. Mary's lovely tiered watermelon and crab starter was on their excellent lunch and early evening set menus (Monday-Friday 11.30am–6.30pm 2/3 courses €19.95/€24.95).
Just for the crack
To follow, Mary had The Ivy shepherd's pie (€15.95) a delicious, if delicately sized, rondelle of slow-braised lamb shoulder topped with Dubliner cheese mash. Taken aback that my request to crack and shell the claws on my lobster (€42.50) was refused "by a Manager", I told the waiter that it would be done in my local bistro without fuss, never mind The Ivy, and asked to see the relevant manager.
'The suit' appeared saying it would be done! One needs to be shore side in jeans, or in a crab shack with bib, to be cracking lobster claws, not messing around through garlic butter on a small table in a citified restaurant that considers itself smart! Anyway, it was pleasant enough with truffle chips (€1 supp). We shared a lovely Rum Baba (€9.75) with Plantation rum, Chantilly cream and raspberries. A number of lower white wines were sold out, so with a glass of Languedoc Grenache rose (€6.75), water (€4.50) and service, our bill came to €134.97.
Though the flash was blinding, and the lobster business crazy, the food was good, our waiter a delight, and the famous Ivy 'buzz' had attracted the glam brigade – the music thumped and a saxophonist was cruising the aisles as we left…
The Ivy
13/17 Dawson Street, Dublin 2.
Tel: (01) 697-0744
theivydublin.com
lucindaosullivan.com
First Published In The Sunday Independent