Restaurant Review - Mews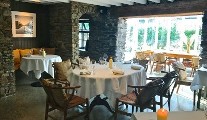 Wednesday 15 August 2018
"The food was so amazing that I cried", gushed a foodie on an awards panel recently, as I, with my usual touch of scepticism, thought 'they need to get out more'. They were talking about Mews, in Baltimore, West Cork, one of the new wave Nordic style Irish restaurants (lots of foraging, fermenting and drying) to have emerged in recent years, but it would have been pretty well a first of the genre in the Rebel County.
However, when we rolled up to the Mews ourselves, fresh from three of the worst service experiences we'd had in years at the hands of smart-ass gobshites in hotels, to be greeted by smiling faces popping their heads out the kitchen door to say hello, we were putty in their hands – I almost burst into tears of joy myself!
Bookings and beds
Mews, a seasonal restaurant running from March until after the Halloween holidays, was started by Luke Matthews, Robert Collender and James Ellis. Matthews has now moved to the big smoke to become head chef at Overends in Dundrum, while Chef Ahmet Dede, former sous chef at The Greenhouse, took over at the stove.

They do have an online booking system, but I called up and explained that before I committed to this with my credit card info, I needed to make sure we had a bed in this busy nautical village. "We have tables anyway", the chap said, with no pretentious nonsense – it was 'what time would you like to come', and when we arrived, 'where would you like to sit?'
The eponymous stone-walled mews building, up a laneway, has a chic pared-back feel with white linen, Scandi dining chairs, and a stunning large table in the conservatory area. A seasonal 8-course Tasting Menu at €69 (3 hours) is the thing here, or a Short Menu €39 (2 hours – not available in August). We went with the latter, which offered a choice of 2 starters and mains plus dessert – but, with pre-snacks, the hip name for the old amuse bouche, it felt like a whole lot more.

Seasons eatings
In true Noma style, Chef Dede presented the food to the table, explaining in detail what was in front of us. A brace of grey slate stones held two black, cream and vibrant green morsels, as delicious and carefully colour co-ordinated as any Farrow & Ball colour scheme in D4. Crispy Irish kelp was the base for three blobs of mint-green wild fennel emulsion, each holding a cube of cold smoked hake and sprigs of bronze fennel. "Have this first", he advised, before we then downed a wakame seaweed biscuit with a swirl of smoky Sherkin Island raw oyster emulsion, fermented kohlrabi and wood sorrel. Boy, that was good! We weren't finished with the snacks, as two torn sections of raw oyster mushroom ensued, glazed with sycamore sap from a tree at Lough Hyne, acting as pockets for a yeast emulsion highlighted with sheep sorrel.
Good chunks of warm crispy sourdough arrived with salted butter and our starters proper of Gra Farm asparagus for me, and mackerel with rhubarb for Brendan. The asparagus had the shaved stalks sitting on whole asparagus tips, while a perfectly-seared fillet of mackerel (pictured) had a parallel line-up of rhubarb compote adorned with yellow, red and blue flowers.
Brendan's main course, a fine tranch of perfectly cooked cod, was served on shore greens, seaweeds and a mussel sauce. Walsh's lamb for me was a precision cut rectangle of melt in the mouth shoulder, topped with black garlic, highlighted by wild garlic and a flaming orange line up of carrot discs and puree blobs. We also had a bowl holding two new potatoes with salt and butter.
Finishing touches
Passing on puds, they kindly asked if Brendan wanted cheese instead – he didn't. Gloun Cross milk featured in divine salty ice-cream with oats honey, pine and campion flower. Heavenly.
Drinks were well priced – local gins €5/€8 – Fino €7 – Sauternes/Port/liqueurs €8/€9. Wines by the glass were from €7 and, with a bottle of Torre del Falasco Garganega Verona 2016 (€30), and water (€6), our bill with service was €125. All in all, it was a truly delightful experience.
We stayed very comfortably in the long-standing Casey's of Baltimore, now part of the newly branded Original Irish Hotels group, which has lovely water views, an excellent seafood restaurant and a great traditional Irish pub bar dating back to the 1800s.
Mews
Baltimore Village, Co. Cork.
Tel: (028) 20572
mewsrestaurant.ie
lucindaosullivan.com
First Published In The Sunday Independent