Our Latest Great Place To Eat - La Piazza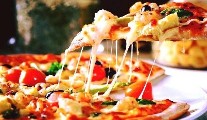 Thursday 09 August 2018
There is an easy relaxed feel about La Piazza from the moment you arrive. The décor really lends to an authentic continental atmosphere with warm wooden furnishings and beams, stone floors and some wrought iron railings and balconies above. The menu at La Piazza is comprehensive, with some great options to start via their anti-pasti menu, which included dishes like deep-fried calamari; crostini funghi with sautéed garlic mushrooms; or tasty marinated chicken wings. There were also some great salad options to consider, such as a Caprese with a choice of bacon or chicken with their house dressing; a goat's cheese salad, as well as a salad Nicoise. I went for their King Prawns 'a La Piazza' which proved a healthy portion of the plump prawns cooked with spring onion and fresh chilli, and served on a bed of rocket. Rena decided to try their Sicilian salad and was more than pleased with her assortment of mixed lettuce with various cheeses and a honey mustard dressing.
Mains had lots of fresh pasta dishes to choose from, with the added treat of being able to choose the sort of pasta used in your meal. Old faves like Bolognese, carbonara and frutti di mare all made an appearance, however, there was some tempting but less familiar dishes on offer too, such as a Gorgonzola and spinach pasta dish in a creamy white wine sauce. You could choose from a variety of fish dishes like salmon, hake or black sole, as well as some tasty sounding meat dishes with a 9oz fillet of prime beef being the high point, but I was mostly excited to try their pizzas. There was standards like a Margherita or Hawaiian, as well a pizza salmon with tomato sauce, mozzarella and strips of salmon, not to mention their 'Italian Job', with salami and olives.
In the end, I went for the pizza nostra, which was a perfectly cooked slice of heaven with its tomato sauce and fresh mozzarella, topped with pepperoni, sausage meat and rocket leaves. Rena had her eyes on the pasta vongole with fresh clams, cooked with cherry tomatoes and a white wine sauce and tossed in, her choice of, tasty tagliatelle.