Our Latest Great Place To Eat - Oak Fire Pizza Clonakilty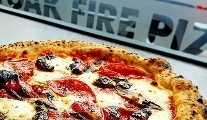 Thursday 02 August 2018
Oak fire soon planted their flag, opening their first pizzeria in Skibbereen. A few years later, they upped sticks to Clonakilty, where, since then, they've gone from strength to strength, expanding up to the first floor, becoming a licenced premises with lots of Italian wines and local craft beers, as well as opening a second restaurant in Bandon – their third, a Cork City pizzeria is due to open this autumn. We, however, on one of our many visits down south, were on our way to their Clonakilty mothership.
We immediately felt at home at Oak Fire Pizza. It's cool and laidback whilst still having a modern high-end feel, which is a difficult mood to capture. The pizzas here are all prepared in their traditional wood-fired ovens, which were built in Italy using clay from the hills of Modena. They pride themselves on the high quality of their ingredients, as well as their method, with their traditional dough being carefully prepared over a 72-hour period, using Caputo 00 pizza flour and their own home-grown natural yeast, and all of their topping being freshly prepared each day.
Like with most pizza places, you can 'create your own' from a wide array of toppings, but the menu at Oak Fire Pizza has a fab assortment of pizzas to choose from with classic selections like the Margherita or an Italiano with Toonsbridge fior di latte mozzarella, fresh basil and parmesan. However, there were lots of unique unfamiliar selections to choose from, which naturally peaked our interest. Their Cool Mexican features marinated Shannonvale chicken, red onion, jalapenos and spicy salsa, finished with lime sour cream and some cracked tortilla chips; while the Oak Fire Feast has spicy pepperoni, West Cork ham, mushrooms, chilli flakes, Parma ham and a few jalapenos. The herbivores aren't left out in the cold, with a tasty sounding veggie pizza topped with mushrooms, peppers, red onion, Kalamata olives and sun-dried tomatoes (also available with Little Green Leaf vegan cheese), and naturally, there is a pizza dedicated to all the meat heads too. Their 'Carnivore' comes with pepperoni, chorizo, West Cork ham, Clonakilty black pudding and Shannonvale chicken.