Our Latest Great Place To Eat - Fennelly's of Callan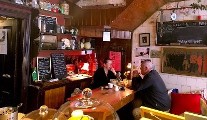 Thursday 19 July 2018
Fennelly's of Callan is set in a fab old building, which, I'm told, has been through many incarnations over the years. It's been a pub, a grocers, a butchers and even a funeral home. The place has obviously been gussied up since then, but it still retains that olde world Irish character that draws so many tourists to our shores each year. Nowadays though, It's an amazing spot – a unique arts space run by the enterprising Etaoin Holahan combined with great food by her sister Aoife. It's perfect film set material - a very old pub, with all its original features, two 'sitting rooms' to the back, and a vast outside yard with sheds and a bockety red-doored loo.
Open throughout the week for breakfast and lunch, (excluding Wed & Sun), the morning menu here has lots of great choices for kick starting the day, like free range poached eggs on rustic or brown bread; fried mushrooms and avocado on rustic toast; or porridge served with fresh fruit and Highbank syrup. They do a natural yoghurt served with fruit, compote and a homemade granola or, if your appetite is a little bigger, they have free range sweet cured hand cut rashers with scrambled/poached eggs, wilted spinach and fried cherry tomatoes on Granny's Brown Bread or Keogh's Rustic Bread. We were there early in the day and Brendan decided to try the breakfast menu's smashed avocado, with goats cheese, poached egg, and leaves on lovely brown bread, whilst I had the specialty crepe of the day filled with wilted rainbow chard, cream cheese and fried mushrooms with fried Heirloom tomatoes, grated sharp cheddar, plus a salad.
In the mood to treat ourselves, we eagerly perused the dessert menu, which had plenty to tempt, such as a seasonal berry baked cheesecake served with a berry coulis and fresh cream, homemade sweet scones, with or without raisins, served with a berry coulis, fresh cream, butter and jam, not to mention a luxury dark chocolate brownie...