Our Latest Great Place To Eat - China Sichuan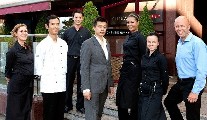 Thursday 12 July 2018
They may be serving lobster now virtually as a fast food, in rolls or with chips, but it really is still one of the great luxury foods and always special. I remember my mother buying it as a summer treat from the fishing boats in Skerries and Howth, taking it home, getting my father to do the nasty deed of popping it in boiling water – that bit wasn't very nice – and serving it simply with garlic butter or mayonnaise.
The most popular way of serving it in posh seafood restaurants used to be the French style lobster thermidor, but every country has their own way of cooking and presenting it. I still get excited at the thought of lobster, so, when I saw it recently on the menu in the China Sichuan restaurant in Stillorgan, I was sold.
Kevin Hui's China Sichuan is one of our longest-standing high-end Chinese restaurants. It was for many years run by his parents on the Kilmacud Road in Stillorgan before moving to its present location in the Sandyford Industrial Estate. Incredibly popular, it has a huge clientele of prominent customers, for whom it's the de rigueur destination when they want their oriental fix. It's a different experience to local neighbourhood Chinese restaurants that serve very basic popular sweet and sour/black bean dishes, but it's also different to the restaurants in Dublin's Chinatown area where self-proclaimed 'foodies' like to boast of having eaten something challenging off the 'Chinese' menu. The China Sichuan is about fine dining with dishes you won't see in run of the mill places but there's nothing to frighten the horses – there's something for everybody.
Appetisers include traditional dishes like cold 'Man & Wife' beef slices; steamed prawns with chilli & glass noodles; Jasmine tea-smoked organic baby-back pork ribs; and Hon Yu Guozi – poached chicken and pork wonton dumplings in a red chilli broth. I kicked off with soft-shell crab - the result of shedding their hard outer shells in spring/summer. Completely edible at that point, they are chopped up and fried, served crispy on the outside with a soft centre, as this one was, with with toasted almonds and chilli flakes. Brendan had a quarter aromatic duck, sliced and ready to be rolled into little pancakes with spring onion, cucumber and plum sauce.
Mains include steamed whole black sole with ginger and scallion; spicy Typhoon king prawns; fried scallops Kung Po style; baked Wicklow rack of lamb with Sichuan pepper, Chinese herbs and Shaoxing wine; and pan-fried rabbit, seasoned with roasted green tea leaves and chilli...