Our Latest Great Place To Eat - Benny & Co.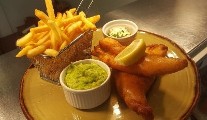 Thursday 28 June 2018
With a relaxed and welcoming vibe, the bright and airy atmosphere make it a great place to visit at any time of the day. You can pop in at breakfast time for a coffee or glass of freshly squeezed OJ with a bowl of creamy honey porridge with poached summer berries, or some French brioche toast with maple syrup, or you could go the whole hog with some bacon, sausage and eggs (poached, scrambled or fried).
On our lunchtime visit, Benny's menu had plenty to choose from, with a selection of fresh salads from their salad bar, as well as as some tasty and interesting house made salad combinations, like a carrot and spinach salad with flaked almonds and a honey and mustard dressing, or a spiced chickpea spinach and goats cheese salad. The obligatory soup of the day was there, as was a chicken liver pate with pear and saffron chutney with toasted sourdough. I was tempted by the Fivemiletown goats cheese salad with poached pear and a hazelnut dressing, but was then attracted by delicious smoked fish cakes with beetroot, rocket, horseradish and walnuts - I just love horseradish. Following in fishy suit, Brendan went for a fantastic chowder of smoked cod, cockles, leeks and garden peas, which he absolutely loved.
Moving on, fish n' chips with mushy peas and homemade tartar sauce sounded like a good way to follow up, as did a pan-fried fillet of wild Atlantic cod with chickpeas and tomato ragu, but I decided to come back to shore for a thick and juicy beef burger served on a toasted brioche bun with tomato and cheese and a healthy stack of skinny chips on the side. Meanwhile, himself quite fancied the penne Bolognese, which he thoroughly enjoyed with some crispy garlic bread.