Restaurant Review - Ananda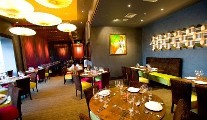 Wednesday 27 June 2018
"Don't get a Michelin Star, you'll only get people who won't appreciate your amazing food", gushed an over-enthusiastic diner beside us to the new Head Chef, Karan Mittal, at Ananda, who, looking slightly bemused, retreated back to his kitchen.
So much has happened in the 10 years since Ananda, the dramatically decorated penthouse fine dining Indian restaurant, with its waterlilly lampshades, opened in Dundrum Town Centre. The flagship of innovative restaurateur Asheesh Dewan's Jaipur Group, which has restaurants in Malahide, Dalkey, and Greystones, Ananda hit the ground running with Sunil Ghai at the culinary helm taking people's breath away with cutting edge contemporary Indian food.
Between them Ananda won every Best Restaurant and Best Chef award you can think of and is as popular as ever. Things change, of course, as they must in the period of a decade. Sunil Ghai has opened his own superb Pickle restaurant in Camden Street specialising in North Indian Cuisine as well a more recent off-shoot, Tiffin by Sunil, doing take-home dishes and spices in Greystones.
Tempting tasting
I was drawn back to Ananda, not by the fact that it is celebrating its 10th birthday, but by a superb Tasting Menu designed by this new young Head Chef, and superstar in the waiting, Karan Mittal. Not only has he got TV looks and charm, he has some cool culinary cred behind him having gone to the Big Apple to work at Indian Accent, the New Delhi branch of which was on the World's 50 Best Restaurants list; offshoots opened in both New York and London in the past couple of years.
An amusing chaat
The 7-course tasting menu was €65, or €100 with wine pairings, and each course was carefully explained by Mittal. An amuse of Old Delhi Chaat was something his mother would do at home but perhaps not so exotically styled – the simplest of dishes in every home, he explained. Here it was sleek crispy cannoli (little tube) filled with green beans, resting on spiced lentils with a turmeric cream, which you must eat in one go to get the explosion of textures and flavours – it works!
Next up, a plumptuous silky moist scallop contrasted the previous crispiness, sitting on a cauliflower korma with crunchy cauliflower florets and topped with chorizo chutney blobs, after which, a Kashmiri morel, looking like the leaning tower of Pisa, was absolutely heavenly. These delicacies grow in an area near pine trees, and this exquisite mouthful was stuffed with mushrooms and sitting in a umami kchcdi of gently cooked down spiced rice, pine nuts and crisp purple potato dimes.
We absolutely loved the prettiest presentation of elegant thinly sliced tandoori smoked Barbary duck (pictured) with a plum murabba (jam) and passion fruit. I'm so sick of big tough uncouth lumps of Barbary duck being hurled up on plates – offending chefs take note!
Choosing a course
Mittal then emerged with a preserving jar filled with aged black limes, explaining that in India his mother and grandmother would put the limes out on the roof for a couple of months to dry and blacken. They would then be taken in and marinated in oils and spices for another period before they would be ready to break open and use. From them, he had made the most amazing aged black-lime sorbet topped with Himalayan sea salt and toasted cumin. Crisp clear and quite different, it cleared the palate for our main courses, of which there was a choice. My friend Rena had pan-seared halibut with rice vermicelli, mussels, clams and cockles, with a samphire fritter and mangosteen bouillabaisse. I had jhinga neelgiri, prawn two ways, sitting in a green lagoon of wild garlic, coconut and curry leaf emulsion.
More sinfulness was to follow with dark chocolate cremeux, a classic combination of chocolate and cherries, by way of Kirsch kulfi pops, and cherry ripple ice-cream, gold leaf, and a purple pansy.

With two glasses of New Zealand Lawson's Dry Hill Sauvignon Blanc 2016 (€9.50 each), bottled water (€3.95), our bill with service came to €167.95.
If you want to really treat yourself to a culinary experience with a difference, without it really breaking the bank, Ananda's Tasting Menu is the biz.
Ananda
Dundrum Town Centre,
Sandyford Road, Dublin 16.
Tel: (01) 296-0099
anandarestaurant.ie
lucindaosullivan.com
First Published In The Sunday Independent