Restaurant Review - Everett's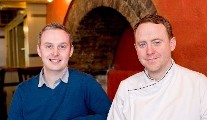 Wednesday 20 June 2018
When it's a choice between flavour or presentation, flavour wins every time. Too often, I've sat down to overblown works of art, on plates, slates or boards, and come away saying that they tasted of nothing and were just an exercise in cheffy vanity. My better half, Brendan, was in the theatrical world, and when he'd hear a singer warbling a totally boring song, or an actor droning on ad nauseum, he'd say "it's just self indulgence".
Of course, we want things to look well on a plate to satisfy the 'you eat with your eyes element', but sometimes I think it's all gone a bit over the top, as chefs constantly clap one another on the back with big frozen smiles, all the while sharpening those cleavers they so love to strut their stuff with! Happily, at Everett's in Waterford, the new restaurant by chef Peter Everett and partner, Keith Noonan, in the former Wine Vaults, we got both flavour and chic presentation.
Hometown hero
Way back in 2006, Everett, who grew up near Waterford Castle, where he was then working under the superb Michael Quinn, won the Eurotoques Young Chef of the Year Award. Interestingly, one of the other four finalists that year was Andy McFadden, who has just opened Glover's Alley in Dublin. Everett went on to work at Chapter One before joining the team at the now defunct Restaurant Forty One, working as sous chef to the brilliant Graham Neville for some eight years. Neville is now head chef at Dax. All of these establishments are bastions of fine food and I reckon the denizens of Waterford and beyond are very lucky to have him back in the fold.
From top to tail
The restaurant is over two floors in a historic building dating back to the 15thC. At street level is The Front Room, a comfortable wine bar, whilst down below is The Vault, an amazingly atmospheric cellar, which is also perfect for bigger groups, and with also a couple of 'snug' sections to play out your Romeo & Juliet.
We rolled up for lunch on our way home from Cork. With 3-courses at just €25, it was fantastic value, particularly given that this menu, which also serves as their Early Bird, was comprised of elements of dishes from their dinner menu. The 3-course dinner, by the way, is only €40, which in my opinion is terrific value, more particularly as so many of the young bucks are setting themselves up with tasting menus running from €65.
Cutting to the chase, we were brought in-house baked breads – a superb crispy baguette and a divine brown treacle, made using Macroom extra-coarse wholewheat, a traditional stoneground additive and preservative-free flour. Brendan kicked off with a good sized quenelle of feather-light sweet fresh crab in a fine tomato jus, balsamic and rocket, while I had simply, but superbly, dressed baby violet artichokes on a wild garlic puree topped with sweet discs of roasted red pepper (pictured). The third option was a Bolognese raviolo glazed with Parmesan.
Three mains included cider-glazed belly of free-range pork, fondant potato and onion puree. Brendan stuck to fish, choosing an elegant fillet of cod with an N'duja crust, onion puree, purple broccoli and a Sherry sauce. I had an exquisite richly-flavoured and tender rectangle of braised short rib of Derek Walsh's beef, sitting in a fine parsnip puree and ribbons, with knotted spring onions and delicious bearnaise. At night, this dish would also include a striploin element, whilse the pork would also include slow-cooked loin.
Reaching Everett's peak
Eschewing a coconut parfait with caramelised raspberries, Brendan had the most fantastic brown sugar tart paired with a crisp Bramley apple ice cream. I had a selection of cheeses, again elegantly presented around a chorus line of water biscuits, giving the diner mild, medium and strong experiences, kicking off with Bluebell Falls goats cheese drizzled with honey, the incredible pungent semi-soft Humming Bark by Carrigbyrne Farmhouse, and Crozier Blue, tweaked with the Spanish style pressed fig and nut cake – which I love.
Wines too are modestly priced, the entry level being €23. So, with a glass of French Chateau de Gaudou Exception Malbec (€7.00), and bottled water (€4), our bill, with excellent service, came to €67.
Everett's Restaurant,
John Collyn House,
22 High Street, Waterford.
Tel: (051) 325-174
everetts.ie
lucindaosullivan.com
First Published In The Sunday Independent