Our Latest Great Place To Eat - Mannion's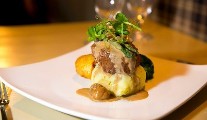 Tuesday 19 June 2018
Helmed by the eager and talented, Emmet and Lisa Hall, who took it over a couple of years ago, this landmark country pub, dishes out top notch nosh in a relaxed atmosphere, with a décor that marries some great classic country style with a modern and very pretty kind of Farrow and Ball colour scheme. Being very handy whilst on the coastal routes between Dublin and Waterford, we popped in for an early evening bite.
On our visit, starters included potted Hook Head crab with lime mayo, baby gem salad and some house soda bread; along with a smooth chicken pate with fig chutney & toasted fruit soda loaf. Grilled asparagus was there, as was a soup of the day option, but I went straight for their pan-roasted prawns served in a lemon and chilli sauce with baby leaves and some delicious crusty bread. Brendan meanwhile enjoyed an order of crispy Fivemiletown goats cheese fritters with a red onion and beetroot jam and sweet red peppers.
For the mains, a confit of Silverhill free range duck leg was with sticky red cabbage, Puy lentils and O'Neills bacon bits whilst 'Jonathan's Lovely dry-aged Hereford beef burger' was in a sesame sourdough bun with Bandon Vale cheddar and fries to the side. There was a tasty sounding summer salad with some meaty optional additions, as well a rigatoni pasta dish, available gluten free, with bacon, tomato and cream basil, along with herb crostini and shaved Parmesan to the side. I opted for Jonathon's dry-aged Irish Black Angus flat iron steak, cooked pink and sliced, and served with an onion and mushroom confit, pepper sauce with some tossed leaves and a flavoursome side of fries. Succulent and just full of flavor, I was more than happy. Himself, however, was delighted by their Irish free-range chicken Kiev complimented by a smoked bacon jam and served with crushed veg, broccoli, baby leaves and battered spuds...