Our Latest Great Place To Eat - Everett's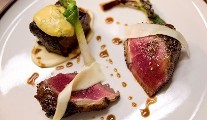 Thursday 14 June 2018
Way back in 2006, Peter Everett, who grew up near Waterford Castle, where he was then working under the superb Michael Quinn, won the Eurotoques Young Chef of the Year Award. Interestingly, one of the other four finalists that year was Andy McFadden, who has just opened Glover's Alley in Dublin. Everett went on to work at Chapter One before joining the team at the now defunct Restaurant Forty One, working as sous chef to the brilliant Graham Neville for some eight years. Neville is now head chef at Dax. All of these establishments are bastions of fine food and I reckon the denizens of Waterford and beyond are very lucky to have him back in the fold.
The restaurant is over two floors in a historic building dating back to the 15thC. At street level is The Front Room, a comfortable wine bar, whilst down below is The Vault, an amazingly atmospheric cellar, which is also perfect for bigger groups, and with also a couple of 'snug' sections to play out your Romeo & Juliet.
We rolled up for lunch on our way home from Cork, and tried out their 3-course menu, which also serves as their Early Bird, and was comprised of elements of dishes from their dinner menu.
Cutting to the chase, we were brought in-house baked breads – a superb crispy baguette and a divine brown treacle, made using Macroom extra-coarse wholewheat, a traditional stoneground additive and preservative-free flour. Brendan kicked off with a good sized quenelle of feather-light sweet fresh crab in a fine tomato jus, balsamic and rocket, while I had simply, but superbly, dressed baby violet artichokes on a wild garlic puree topped with sweet discs of roasted red pepper. The third option was a Bolognese raviolo glazed with Parmesan.
Three mains included cider-glazed belly of free-range pork, fondant potato and onion puree. Brendan stuck to fish, choosing an elegant fillet of cod with an N'duja crust, onion puree, purple broccoli and a Sherry sauce. I had an exquisite richly-flavoured and tender rectangle of braised short rib of Derek Walsh's beef, sitting in a fine parsnip puree and ribbons, with knotted spring onions and delicious bearnaise. At night, this dish would also include a striploin element, whilst the pork would also include slow-cooked loin.