Our Latest Great Place To Eat - The Riddler Restaurant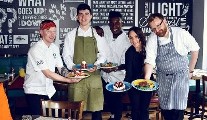 Tuesday 05 June 2018
I was eager to check it out, so jumped at the chance when meeting my son, Ian, for lunch one warm, sunny day. Centrally located, it was clearly attracting quite a number of tourists on our visit, as well as regulars, including what looked like some from the Cathedral – and we all know the men of cloth like their good food.
Living up to its name, the walls here are covered with clever riddles which you can solve as you await your grub. The room itself is spacious, bright and modern, perfect for a relaxed meal with family or friends or just to grab a coffee and a snack.
On our visit, the lunch menu had plenty to choose from with smaller bites like soup, chowder or a selection of homemade sandwiches as well as a super food salad. Bigger bites included a braised Wicklow lamb stew; fresh Irish mussels served with homemade chips as well as a roast free range pork neck with spiced chickpeas and tomato stew. Pale ale battered fish and chips were there as was their Riddler's Burger of the week – which looked absolutely knockout on a neighbouring table – and I thought, quite seriously, about trying the beef tagliata of seared sirloin rump with poached egg, roast tomato and garlic potatoes. In the the end, however, I went for a risotto of barley and Arborio rice, roast butternut squash, and wild mushrooms, topped with rocket and Parmesan. Ian happily tucked into an order of spicy chicken wings, served with the aforementioned homemade chips and some garlic mayo, and was more than happy with his meal.
The dinner menu at The Riddler has some really great dishes too, with starters like Andarl Farm crispy pork belly, Irish crab in a mango and papaya salad or some Fivemiletown goat cheese...