Restaurant Review - Ichigo Ichie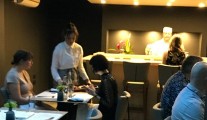 Wednesday 30 May 2018
The Araki in London, a tiny 3-Star Michelin 9-seater Japanese restaurant, with a no-choice sushi menu at a whopping £300, is one of the hottest foodie destinations in Europe. I mention this to prepare you for Ichigo Ichie, a new restaurant in Cork by Japanese chef Takashi Miyazaki, who has had thundering success with his eponymous tiny eatery/take-out on the city's Evergreen Street, seeing him rise rapidly to celebrity chef status and become every food writer's darling.
The red tape
His ambitious new venture is a 25-seater fine-dining restaurant, in the former Fenn's Quay, offering a traditional 12-course Kaiseki tasting menu at €95. There was considerable pre-launch hype, plus an announcement on Twitter as to when their booking system would be going live, coaxing us foodies to perch over our various screens on D-day to ensure a reservation. You can only book online (up to three months in advance) – with your credit card and with terms you must accept – which comes across as overly officious and daunting. Anyway, finger poised at the appointed hour, I bagged a table online in the Nagomi Room, seating 12, in front of the "chef's exclusive 5-seater counter". The Zen Garden, inside the entrance door, was the third option. Ten days before our date, we had a call to know were we still on for our booking, saying they had a "strict tardiness policy" and if we were 15 minutes late we might miss a couple of the early courses. Thinking then that everyone would be kicking off at the same time, and not wanting to be late, I pitched up 20 minutes early to find people already eating, and we just blended in as normal. The neo-Nordic nonsense, where a lot of this restaurant self-aggrandizement started, has a lot to answer for.
...And a partridge in a pear tree
Belying the over-zealous lead up, everyone was delightful, and the delicately flavoured food was artfully presented. Listing 12 dishes, with all their little add-ons, would put you to sleep, so I'll just give you the high-lights. Most of the food was cold, or luke warm, involving seafood, lots of dashi (broth) and daikon (radish), and, oh boy, there must be a helluva lot of pre-prep in that kitchen, as each course came up very quickly, in fact we were through in 90 mins.
Our first two courses came together – Sakizuke – an appetiser of tofu mashed with broad beans, sesame, and local rhubarb; and Nigiri sushi of mackerel and salmon with soy foam. The star of the night for us was Hassun (pictured), a selection from land or sea, sporting exquisite ribbons of smokey flavour Thornhill duck, spring onion, gizzard, hay and leek; tiny morsels of conger eel, wrapped in wakame and cucumber ribbons topped with salmon roe and sansho pepper vinegar; and thirdly a cube of bland asparagus tofu, cured 'onsen' egg yolk, whiting powder and salted cherry blossom. Wanmono – a little bowl of broth – ginger and bonito dashi – held a dumpling consistency blend of daikon and flour topped with Castletownbere brown crab, and mitsuba leaves.
With a small tweak to the menu, on the night, spring bonito was replaced with tuna in our next course, a Mukouzuke sashimi trio of fish, as was turbot with monkfish, while Castletownbere squid was there as billed, and each were topped with either quail egg yolk, dried garlic, or chive and ponzu gelee. Daikon popped up again in a Nimono yuzu miso broth with a crunchy bamboo shoot, while ox tongue in the Yakimono grilled course just wasn't for us. There was a delicious chicken thigh and turbot fin with broad bean in a custard style egg dashi; rice bran with aubergine, purple ninja radish; and channelled wrack (seaweed) with burdock, shitaki and dashi. It began to feel a tad samey 'til we fell on the relief of a heavenly soy milk chocolate bon bon.
Seize the day
What they're selling is a Japanese haute cuisine experience – "once in a lifetime" – and, when you think of £300 a head in London, €95 seems reasonable – €8 per course – though you are committed to a large expenditure sans 'beverages'. Sometimes less is more, so perhaps, for some, an 8-course option would be good.
With a delicious bottle of La Dilettante Vouvray Chenin Blanc 2016 at €44, water (€5) and service our bill came to €262.90.
Ichigo Ichie
5 Fenn's Quay, Cork.
Tel: (021) 427-9997
ichigoichie.ie
lucindaosullivan.com
First Published In The Sunday Independent