Restaurant Review - Forno500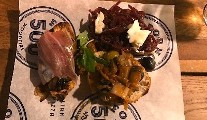 Wednesday 23 May 2018
What do most people want of a restaurant at the end of a working week? I reckon it's a warm welcome, friendly staff, a decent table and atmosphere, and good food that's not necessarily too poncey. We found all of that in the new Forno500 on Dame Street. I'd called up when almost there, and there were no 'ifs buts or maybes while I check my book'. The place was pretty full, but the young Italian guys on the floor all smiled and said 'hello' as we were whisked past a big bar, a small vacant table for 2, to a lovely corner at the end of a banquette.
If you can't stand the heat
Forno500 is just beside the Olympia Theatre in what was, for 30 years, Les Freres Jacques, a very successful French restaurant owned by Jean Jacques Caillabet. It was the go to place for wealthy Francophiles and corporate lunchers, both of which diminished during the recession.
The ground floor, which is long and narrow, has had a clever shake-up decor-wise. The front section and the bar are in the same position, but by opening up the kitchen to the rear, making it a focal point visible through a glass partition, and installing dark brown leather banquettes facing one another in front of it, they've brought alive an area that was pretty dead on my last visit.
A massive old style artisan pizza oven (forno) from Naples, maintaining temperatures of 500°C (hence Forno500), has been installed, which apparently involved shipping in nine tonne pallets of materials, then taking ten days to build it brick by brick with mortar made from Volcanic ash – not sure what difference it makes, but there you have it.
Minimum mains
Antipasti (€6-€15) included goats cheese salad; carpaccio of fillet of beef with rocket, parmesan and black truffle oil; bruschetta Sicilia with sweet baby cherry tomatoes and diced onion; calamari; and a blackboard veggie special of aubergine with caponata and asparagus. I wanted them all.
I should mention at this point that there's a minimum charge of one mains per person, so you can't go in and sit over your laptop with a bruschetta and a coffee for three hours guys!
There was a very good 3-course early bird menu (3.30pm-6.30pm), which we'd just made, and my friend Mary decided to go with that, while I stuck with the a la carte. She kicked off with calamari fritti, which was excellent, involving calamari rings and vegetable fritters with a tomato sauce and a slice of lemon. I had bruschetta 3 ways (€10) with toppings of caponata – stewed vegetables in a tomato salsa; sweet onion and goats cheese, and aubergine, chilli and Parma ham. Bursting with flavour, each little topping outdid the other taste-wise.
Well done but well done
Mains had 17 'red and white' pizzas (€13-€16), so you're bound to find something you like. They included Piccante – fior de latte (on all the pizzas), super spicy sausage ('Nduja), rocket and parmesan; Porcini – Italian sausage, garlic, pecorino, salt cured olives; and the combinations go on with salami, cured anchovies, prawns et al. Other mains (€15-€22) sported ricotta and spinach cannelloni; penne Amatriciana; fettuccine Bolognese; foil roasted seabass and wild mushroom risotto, with sides at €4.
Mary had a choice of pasta and pizzas, from which she had a tasty Marinara with mussels, clams and prawns, garlic and EVOO. I had Tagliata di Manzo (€22), a decent tranch of grilled beef, sliced Italian-style and topped with rocket, cherry tomatoes and lovely hot fries. Billed as being served medium, it was no doubt well done, but, tasty and tender, so I wasn't going to be overly pernickety as I enjoy beef cooked at different levels – plus it was decent value. However, as it's often served more rare as a dish, you might want to check before you order it.
The early bird included a dessert, so, with two spoons, we shared Mary's mint and strawberry pannacotta.
Cocktails and mocktails are €4.50-€12, the entry level for wine is €24.95, and with 2 glasses of unspecified Orvieto (€6.95ea) and one glass of similar Pinot Grigio (€7.25), both of which we found a bit thin and flat, bottled water (€4.50), our bill with service came to €89.65.
That said, it's a delightful spot, just what the doctor ordered at the end of the week.
Forno500,
74 Dame Street, Dublin 2.
Tel: (01) 679-4555
forno500.ie
lucindaosullivan.com
First Published In The Sunday Independent