Restaurant Review - Voici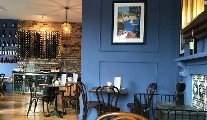 Wednesday 16 May 2018
"We could move here and eat out in a different restaurant every night for the rest of our lives", was the comment from an American couple overheard on Grafton Street recently. Indeed with so many to choose from in Dublin, they could be chowing down on Nordic, Indonesian, Korean, Nepalese, Japanese, Indian, French or Italian et al. In fact, we've become blase about our culinary coolness, which might be okay as customers, but when 'cool' chefs begin to believe their own publicity – which we're also seeing in this new, dare I say it, 'tiger' era – it's dangerous.
Well, my eye was caught recently by a new French style wine bar, Voici, in Rathmines, perhaps egged on by the freezing weather and longing thoughts of our annual trip to the France.
I say French style because, asides from the on-duty staff being mainly American, it is in fact owned by Redmond Kennedy and Patrick Molony, who already have Scoop Gelato as well as Classic Crepes, a mobile creperie in a funky vintage Citroen HY convertible, which they use for events, parties and the like.
So, the guys are not new to the food business, particularly Kennedy, who one might say has it in his blood – his great grandfather having founded Kennedy's Bread of yore. Before setting up their crepe biz, they attended a French Crepe School in Brittany to learn the knack of making authentic crepes and crisp galettes.
French flair
The 'engine' of Voici is on the ground level, which has a fun atmosphere involving Citroen facades on the walls and counter-fronts, where the guys were busy spreading the batters on the traditional hot plates. So, passing through the kitchen, as it were, we headed upstairs to the wine bar, a lovely Prussian-blue room with stripped floorboards, a warm stove, comfortable banquettes, bentwood chairs, a wall of wine, Francophile pictures, and lots of French music in the background. How I love when meeter greeters say 'sit anywhere you like', rather than insisting you sit by the loo door or on top of other people in what might be an otherwise empty restaurant. We made for a corner on the banquette.
The lunch and dinner menus were very similar both in their content and pricing, save that the lunch menu had substantial Croque Monsieur and Madames (€8/€9), the traditional French grilled cheese sandwich but on sourdough with home-cooked Irish ham, melted Irish Emmental, Dijon mustard, bechamel and a salad garnish – with Madame being topped off with a fried egg. I saw these at a table when we were leaving and they looked so fab I nearly sat down again! Soup du jour with crusty Bretzel baguette was €6, a trio of sharing charcuterie/cheese boards were €16/€18, and, the star of the show, sweet and savoury galettes were €9.50-€12.
Galetting started
We kicked off sharing chicken liver pate (€10) and crab on toast (€12). The pate was a good tasty tranche, with crisp baguette slices and plum chutney, while the crab was conveniently split over two pieces of toasted sourdough with aioli.
Galettes included Complete with an egg, ham, and Emmental; Le Petit Poulet with chicken and melted brie. We had La Chevre (€11), and Caprese (€11), with the addition of prosciutto ham (€2). Both were lovely crisp square 'envelopes', mine with melted St. Tola goats cheese, walnut pieces, honey and rocket leaves, and the friend's with Buffalo mozzarella, sun-ripe tomatoes, basil pesto and basil leaves. My only gripe would be that three of our dishes were served on ugly well-scratched boards – fire them in the wood burner - plates (or even slates) please!
Full of crepe
Kids, big and small, will love the sweet crepes (€5/€7) served with freshly squeezed lemon, sugar and butter, or filled with Nutella and fresh cream. Grown up tastes will probably fancy the Crepe Caramelisee with handcrafted Atlantic sea salted caramel gelato, topped with whipped cream, flaked almonds and homemade caramel au beurre sale.
The entry level with wines was €24, moving up to Predator Old Vine Zinfandel from California at €44, with a Pannier Brut NV Champagne at €85, if you were feeling frothy. All wines were available by the glass and, with two glasses of a simple Domaine Delsol Picpoul de Pinet (€7) each, our bill with service came to €69.85
Voici
1A Rathgar Road, Dublin 6.
Tel: (01) 535-0540
voici.ie
lucindaosullivan.com
First Published In The Sunday Independent