Restaurant Review - Livin la vida mocha!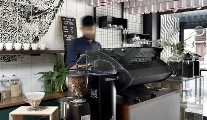 Wednesday 09 May 2018
Cafes are sprouting like mushrooms all over the country, many with great themes, and most of which are packed. They are, however, the unsung heroes behind the restaurant industry, providing all day food for all ages at generally very good prices. I was in five very different spots recently, all doing a great job.
Good vibrations
Rattling down the Bull Wall over the boarded central section, which always gives me the jitters, I couldn't but think of the summers spent out here as a young teen. I learned to drive on Dollymount Strand, and somewhere in the deepest archives of my teenage years is a picture of a 14 year old me perched on the bonnet of the car – my mother believed you should learn to drive early – no fear!
I was headed for the new Happy Out, a 'Beach Boys' style cafe on Bull Island owned by Karl McCullagh and Brian Hanratty, an uncle and nephew team. Basically, it's a poshed-up converted-shipping container, set on a height, flying three flags, and looking a bit like a military outpost in a desert! You order from one window and collect from the other. There's a small indoor section, but the place to be is the big deck, which has spectacular views out over the dunes and Dublin Bay, not to mention the passing parade of long-legged guys and girls in shorts and trendy sportswear, dog walkers et al. They keep it simple, serving a quartet of toasties (€5-€7) including – 'Clucking Unbelieveable' with rotisserie chicken, avocado and a 3 cheese blend; 'Asparagorgeous' with roast asparagus, red pepper, mushroom and spinach on a cream cheese base, soup, coffee/tea, pastries and cakes etc. Ian had 'Hamazing' (€6) - honey baked ham with a little smear of mayo and their 3 cheese blend, while I had the 'Stay Tuna'd' (€6) – a tasty mix of tuna, sweetcorn, red onion, rocket and the 3 cheese blend, along with a carton of nice tomato soup (€4). With coffee (€2.30) for Ian, we spent €18.30 and enjoyed the vibe.
See happyout.ie
Pigging out
Another port of call was Lema Murphy's brilliantly colourful Pot Bellied Pig in Rathmines where the Bee Gees 'Night Fever' was pumping out followed by George Michael's Careless Whisper. Long and narrow, with green tiles and hanging plants creating a botanical feel, it's bursting with atmosphere, and regulars, and I could see why. As we perched on stools at the bar counter near the pass, we saw all the food going out, and it looked great. It's an all day brunch menu (€5-€12) from 8am-3.30pm. All the eggy favourites are there including Shakshuka of slow-cooked tomatoes, onions, peppers & chorizo with 2 baked eggs and butter-rubbed charred farmhouse toast. I had a lovely warm salad (€8) of roasted sweet potatoes with pearl couscous, roast mixed seeds, chilli and pecans, natural yoghurt and fresh herbs, while Ian had a great BLT (€6) with bacon, lettuce, tomato, garlic and basil aioli, on toasted sourdough served with nicely dressed leaves. With an Americano (€2.80) and service, our bill came to €18.80. Check out their brilliant monthly Drag Brunches and Supper Club nights.
See potbelliedpig.ie
A little while back, we visited another colourful cafe of note for lunch– Fennelly's on Bridge Street in Callan, Co. Kilkenny. It's an amazing spot – a unique arts space run by the enterprising Etain Holohan combined with great food by her sister Aoife. It's perfect film set material - a very old pub, with all its original features, two 'sitting rooms' to the back, and a vast outside yard with sheds and a bockety red-doored loo.
Brendan had smashed avocado, with goats cheese, poached egg, and leaves on lovely brown bread (€8), while I had the specialty crepe (€8) of the day filled with wilted rainbow chard, cream cheese and fried mushrooms with fried Heirloom tomatoes, grated sharp cheddar, plus a salad. The desserts, cakes and juices, are just to die for, so Brendan succumbed to a blackberry and orange mascarpone baked cheesecake (€4.50) served with cream, coulis and berries, while I had a scrumptious tarte citron with cream (€4.50). We had a juice each - a 'Big Red' (€3) of berries, apples and banana, and a 'Big Green' (€3) of avocado, honey, banana and wild leaves, which, with an espresso (€2.50), tea (€2) and service, brought our bill to €40.
See facebook.com/fennellysbridgest/
Riddle me this
Close to Christchurch Cathedral is The Riddler, a large cafe/restaurant which, due to its location, was clearly attracting quite a number of tourists on our visit. The walls are covered with clever riddles which you can solve as you await your grub. The lunch menu (€5-€14) included chowder, sambos, mussels, a burger – which looked good on a neighbouring table – as well as two stews – beef with barley, root veg and whiskey bread, or pork neck with spiced chick peas and tomato. I had a risotto (€10.50), a mix of barley and Arborio rice, roast butternut squash, and wild mushrooms, topped with rocket and Parmesan. Very pleasant, but I only came across one slice of mushroom. Ian was happy with his spicy chicken wings (€7), which they allowed him have as a starter portion without the billed chips. With two Diet Cokes (€5.60) and service, our bill came to €25.60.
See theriddler.ie
Last but by no means least is the Vanilla Pod, which opened recently in Blackrock Shopping Centre. This is a sibling of the very successful Vanilla Pod in Carrickmines. Again, the place was packed, there's a lovely buzzy atmosphere, and they have an extensive menu for breakfast and lunch at good prices. Poached, fried or scrambled eggs served with spelt, sourdough or white toast were €5.50. I had them scrambled, adding a side order of smoked salmon for just €3, and they were delicious. Brendan had his eggs fried (€5.50), again with toast, and added sausages at €2. Both were served with a little dish of chutney. With a mug of Americano (€3), a Mocha (€3.10), and service, our bill came to €25. We did ask ourselves on leaving, why we ever bother to cook breakfast at home?
See the vanillapodeatery.ie
lucindaosullivan.com
First Published In The Sunday Independent