Restaurant Review - Rasam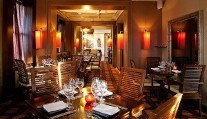 Wednesday 02 May 2018
I've been asked on many an occasion, what makes Rasam Indian Restaurant in Glasthule, so special. But then they might well also ask Pat Kenny, Miriam O'Callaghan, Marian Keyes, and Chris de Burgh, not to mention a plethora of techie millionaires and sports stars, all quietly ensconced at tables on a regular basis. That's apart from blow-ins, such as the gorgeous Nigella Lawson who wheeled up last autumn; Eastender stars Shane Richie and Jessie Wallace (while here filming the awful offshoot, Redwater), plus IMF money man, Princeton Professor Ashoka Mody.
Part of its success is that when Nisheeth Tak opened Rasam 15 years ago, he created a place that feels like a home away from home. There's always a superb welcome – you're an old friend. They know your special table, your family, your birthdays, but not in an intrusive way. There's an art to hospitality and Nisheeth is a natural. Trained in high-end hotel management in India, he worked at The Taj in Mumbai, the iconic hotel which has had everyone from Jackie Kennedy to the Prince of Wales to Barack Obama.
A few of our favourite things
It was Nisheeth who pioneered lighter modern Indian food in Ireland, first when working at other high-end Indian restaurants in Dublin, and then at Rasam. We all have our favourite dishes. One son always has 'mango prawns' and the other the fabulous Haldi Jhinga – pan-seared jumbo prawns. I love the Keralan duck, fig and tamarind rolls – or the Thali which gives a complete selection of dishes on a silver platter.
However, the food is ever evolving with Nisheeth and his chefs developing fresh ideas inspired from regular visits to various regions of India. The team is also being joined very shortly by a new young chef, Keralan born, Krishna Balakrishnanan, who trained at Gaggan restaurant in Bangkok (No 1 in the World's 50 Best Far Eastern Restaurants).
New tricks
With a new menu just launched, I went along with my friend Rena to try it. Starters (€7.95-€16.95) included a dish from Tamil Nadu, which had Tiger prawns dipped in fresh basil and sesame seeds, fried with sprout leaves. Karnataka gobi kempu bezule, crunchy florets of cauliflower, were South Indian style with fresh chillies and curry leaves, while Bharwan mirch, were chillies filled with goat cheese, peppers and dried Indian mint leaves. I kicked off with Besan Ki Machhi (€11.95) a light dish of pan-fried Tilapia marinated in chickpea flour, carom seeds and freshly prepared spices, which is a new fave. Rena had pork varuval (€8.95) from Tamil Nadu, delicious strips of pork marinated with star anise, chilli powder, black pepper, curry leaves, ginger and garlic.
The main event
Mains (€14.95-€22.95) included Malvani murgh, (Malvan being a coastal region where Goa meets Southern Maharashtra), a chicken curry with roasted chana dal powder, nutmeg, poppy seeds, cashew nuts, tomatoes and onions; while Saoji Machhi Masala, an authentic recipe from a fisherman's community on India's Western coast, used pan-fried white fish, which is then simmered in a sauce of black cumin, melon seeds, dried coconut and browned onions. A whole tandoori seabass Mumbai-style is there, as is Barrah Nalli, a popular lamb shank dish. I also often have their vegetarian dishes – 'paneer soya chilli' from North India or palak kofta - spinach balls - from Lucknow.
I had Dahi Ka Gosht (€19.95), a fragrant lamb curry with mild red chillies, pepper paste, coriander leaves with the stem, yoghurt, cloves and cinnamon. These whole spices being removed before service, lending a delicate long-lasting flavour. Rena's Hake Caldinho (€21.95) was a lovely light curry with turmeric, coconut, cumin seeds, peppercorns, coriander seeds and tamarind. We shared one pulao rice (€3.50), and a peshawari naan (€2.95) filled with roasted coconut, almonds and raisins.
Rena finished off with mango kulfi (€6.95) with glittering basil seeds, an amazing Indian ice-cream, different from anything you will have here.
Splendid as always at Rasam and, with a lightly fruity and aromatic Galician wine, Terras do Cigarron, Godello 2016 (€33), our bill with service came to €120.
Rasam
18-19 Glasthule Road, Dun Laoghaire,
Co. Dublin.
Tel: (01) 230-0600
rasam.ie
lucindaosullivan.com
First Published In The Sunday Independent