Restaurant Review - The Baths At Clontarf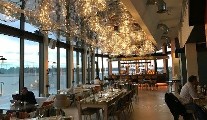 Wednesday 25 April 2018
With beach-hut doors, deck-chair fabric covering the seats, brass-topped tables with nautical screws, giant beach chairs, a ceiling that's filled with frothy glass bubbles, and jaunty staff bedecked in Breton jumpers and jeans (the girls with bows in their hair and the guys with caps), there's more than a touch of Deauville glamour to The Baths at Clontarf.
People have been fascinated with the idea of anyone taking on the long-closed Clontarf Baths, and I have to say it's one of the most impressive and happy creations I have seen in a long time. It's a very long room with a bar at one end, an open kitchen, spectacular views out over Dublin Bay, not to mention the big yellow rubber duck sitting in the actual baths.
This project is under the same ownership as the Seafield Hotel in Ballymoney, Co. Wexford, and seems to be really on the nose of what people want by way of good fun combined with casual dining. Kevin Arundel of The Chop House was involved in the setting up of the restaurant here, as he was with their Village Bar & Grill a couple of years back.
Diving in
Some lovely breads quickly arrived – Guinness and flatbreads – on a board with hummus and seaweed butter, as good quality Castillo Canena extra virgin olive oil and Manicardi aged Balsamic were placed on the table for our use. So far, so great – and it got better.
Starters (€6-€16) included a seafood chowder of smoked and fresh fish with Guinness bread; oysters 3/6 at €9/€16 were served tempura style with harissa and pickled ginger or cold with a Vietnamese-style dressing. Warm chicken terrine was with pickled vegetables, sauce gribiche and a balsamic reduction; spice baby-back pork ribs had a celeriac and apple slaw. Dublin Bay prawns (€15), for my friend Mary, were three whoppers in their shells; heads, claws and all – finger-licking stuff – on toasted sourdough. Ireland's Eye crab (€15) for me was also ace. Three pieces of toasted La Tartine sourdough were cut into manageable bite-size pieces and topped with three blobs of dressed crabmeat, a blob of lambs lettuce, and some diced mango, with a lemon slice – all very fresh and tasty.

Menu medley
The menu is well thought out with something for everyone – singles and families – from rotisserie chickens half/whole (€19/€32), and a natty range of pizzas (€14/€18), including gluten-free bases, covering the simple Margarita; spicy pepperoni with pancetta, bresaola, and torn burrata; Fivemiletown goats cheese with chorizo, pine nuts; artichoke with fig and lemon truffle oil, which would take my fancy, and the Dublin Coddle with Guinness sausage, organic bacon, potato, parsley and mustard honey glaze, which wouldn't – but no doubt there'll be someone on the tourist trail.
Other Mains (€15/€28) included fish 'n chips; a 10oz striploin; Leinster lamb; and chilli-glazed tofu with coconut greens, noodles, roasted-peanut sauce. There was also a French-style skillet of fish with baby potato, leek, Pastis, and soda farls; but, having seen it at the next table, Mary chose the fish of the day, which was smoked haddock (€15.95) with crab claws, prawns and potato, beautifully presented, layered in a scallop shell, topped with tomatoes, herbs and charred lemon, all sitting in a delicious creamy sauce. Great value. Gambas (€26) for me were also delicious with chilli, garlic and finely-diced chorizo on samphire and including a side of lovely 'parsley parmesan' fries, but perhaps a tad pricey with only four butterflied prawns – a couple more would have made a big difference.
'Sweets' (€7/€8) sported Knickerbocker Glory; rhubarb, apple & maple crumble with gorse-flower custard; and a cheese board at €12. Mary and I shared a very pleasant chocolate and pistachio tart (€8).
Eau de vie
We resisted all the fantastic sounding cocktails (€8/€15) from North Cider to Bathtub Punch to Poitina Colada and, instead, stuck to the vino, which had both small and large glass sizes as well as by the bottle. We enjoyed a delicious bottle of Sicilian Linteo Inzolia (€32), water (€2.80), an Americano (€3.50) which came with a mini doughnut looped on the coffee spoon, and service, our bill came to €130.05. If only they'd do the same with Dun Laoghaire baths…
The Baths at Clontarf,
123A Clontarf Rd, Clontarf, Dublin 3.
Tel: (01) 969-6580
thebaths.ie
info@lucindaosullivan.com
First Published In The Sunday Independent