Our Latest Great Place To Eat - The Marine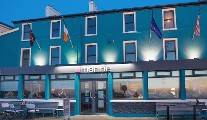 Tuesday 24 April 2018
I'm quite sure that many visitors would come for the views and landscapes alone, which are breath-taking, with views of Ballybunion's historic castle and the rough tides of the Wild Atlantic waves crashing into the scenic coastline.
The décor here is warm and inviting but with a cool soft-lit feel that lends a really good atmosphere to your visit. Derek, who is also the head chef here takes great pride in using fresh and locally sourced ingredients to provide his patrons with the best experience possible.
On our visit, there was a great selection of starters including a crispy sticky beef stir fry with lime, chilli, coriander, ginger, veg and noodles; a deep fried wedge of Brie with red onion confit, sweet chilli and a house salad; as well as a wild Atlantic seafood chowder of smoked haddock, cod and salmon with hints of shellfish. I quite fancied their Thai crab cakes, but ultimately, went for a fab chorizo, honey, goats cheese and beetroot salad that I was more than happy with, whilst Brendan enjoyed his selection of steamed Cromane mussels in a white wine and garlic sauce with some crispy garlic bread on the side.
For the mains, there was plenty of attractive selections to make our decision more difficult. Their lamb 'tomahawk' was on offer with carrot puree, sautéed potatoes and a red wine jus; while a pan-fried fillet of wild Atlantic hake was also a frontrunner with its bok choi, asparagus, red pepper and sesame with a side of baby potatoes. Brendan was pleased to see his carnivorous ways well catered for with with some great steaks on offer to satisfy his 'meat' tooth. He opted for a prime Irish Hereford chargrilled sirloin steak, beautifully prepared and served with tenderstem broccoli, mushrooms and onions with his choice of potatoes or fries (he went with fries), while I, on the other hand, went out to sea with their Marine style fish & chips. A healthy portion of tempura battered wild Atlantic Hake with a mint pea puree and house tartare was gleefully received and enjoyed by yours truly.