Our Latest Great Place To Eat - The Rafter Dempsey's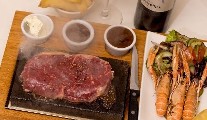 Thursday 19 April 2018
Following a day spent indulging in some girlish retail therapy in the city of my ancestors, Kilkenny, my pal Rena and I were both famished and on the hunt for something good to eat. Having heard great things about the food from local friends, we decided to make our way over to the popular Rafter Dempsey's Bar and B&B on Friary Street, which also has a reputation as a local go-to spot for live music and sports events.
From the moment we arrived, the atmosphere was warm and welcoming and we felt right away that we were onto a winner. Serving food throughout the day from breakfast through to dinner, it had the feel of a high end gastro pub but without any of the frippery.
Starters, on my visit, included homemade trout pate made from local Goatsbridge Trout and served with homemade brown bread, the chef's homemade vegetable soup served with croutons and homemade brown bread as well as a great selection of summer salads from a summer Moroccan beef salad with a citrus orange dressing to the classic chicken Caesar. I quite fancied the orange pepper chicken salad, which proved a treat with pan-fried butter-flied breast served in a zingy orange pepper marinade with mixed leaves, tomatoes, cucumber, onion, buckwheat and baby potatoes. Meanwhile, pal Rena happily tucked into some mildly-spiced smoky BBQ wings with it's accompanying chilli aioli dip.
For the mains, there was lots for us to sink our teeth into, from Guinness bangers with creamy mash to a vegetarian noodle omelette with mixed peppers, red onions and French beans to a fresh fillet chicken burger chargrilled and served with a Marie Rose sauce and some tasty hand cut chips. From their 'Sizzling Stone' there were a variety of Angus striploin steaks, a surf and turf option with Dublin Bay prawns, as well as my eventual selection, some mouth-watering lamb cutlets perfectly prepared in a pepper sauce and served on the stone with baby potatoes and bulb fennel along with a host of sauces – Tzatziki, salsa and a rosemary gravy. Rena, however, was in the mood for their gourmet Angus beef burger and it didn't let her down. A proud 6oz prime burger with decadent layers of cheddar cheese, smoky bacon and onion marmalade arrived with it's black onion seed brioche bun and some reluctantly shared hand-cut chips.