Restaurant Review - Sole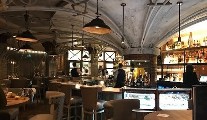 Wednesday 18 April 2018
There was something of the old days about SOLE Seafood & Grill, which has just opened on Dublin's South William Street. When I say the old days, I mean way back – perhaps in the 1940s or 1950s, when neither you nor I were tripping the light fantastic around the city, but the days of Brendan Behan and Patrick Kavanagh, when the iconic restaurants, Jammet's on Nassau Street and the Red Bank on D'Olier Street, reputedly a Nazi watering hole, were the height of sophistication and the places to be.
SOLE has taken the place of Zaragoza, a tapas restaurant opened about five years ago, which initially had the former Deputy Leader of Fianna Fail, Mary Hanafin, dipping her toe into the foodie world, along with some ten other people. In latter times, it was run by the guys behind FIRE at the Mansion House, Padraic O'Kane and Larry Murrin, who closed it just after Christmas, and, following a massive revamp, have created a stunning venue for SOLE.
A touch of glass
There was something nice too, and very Dublin, about the smartly-attired young waiters repeatedly saying 'not a bother', which made us smile. Glass fronted fridges and counters, display vast cuts of beef, a myriad of oysters and mighty denizens of the deep, including a giant Norwegian crab with claws that would delight and scare the bejaysus out of any child gazing in. It's not cheap, but it will definitely appeal to the corporate world and to tourists from nearby 5-Star hotels looking for some high-end poisson, good wines, and a cocktail or ten at the bar.
Richie Wilson is the head chef of both restaurants and the menu is fancy upscale rather than new wave seafood shack style – both of which I love. For an island nation, we've had a warped relationship with fish, going back to the Catholic Church's not so 'funny Fridays', when people ate badly-cooked boney whiting more as a penance. So, it's great to see the joys of great fishy fare hitting the young generation, who cannot get enough of it.
Oyster-loaded
At SOLE, the menu has a full page devoted to Oysters – the prized Irish Native, plus Carlingford, Achill, Connemara and Galway rock varieties (2 rock oysters €4.50/native €6.50), with raspberry & shallot vinaigrette,Tabasco, or, Rockefeller style rock oysters grilled with wilted spinach and hollandaise glaze at €16.50 for 6. Tiered seafood platters for sharing were €70/€110. Starters (€11.50/€16.50) included charcoal-grilled sole skewers; prawn cocktail; rope mussels; beef carpaccio and tempura Portuguese octopus. Our waiter immediately brought very nice seaweed and treacle breads with smoked butter, which always starts things off well. Mary's Norwegian king crab (€16.50), was a very fresh, pretty and light, presentation with pink grapefruit, a zingy honey mustard dressing and micro leaves, while lobster cakes (€13.50) for me were a brace of finely-textured, 'golf' balls with a bisque foam, and pomegranate seeds.
A nice plump pair
Mains (€19.50-€65) covered fish 'n' chips; fish pie; pan-fried Irish halibut; Miso sea bass; Lobster (market price); Norwegian King crab legs, top of the range at €65; and sirloin and fillet steaks.
Our two classic dishes were ace. Coquilles St. Jacques (€35), with samphire and asparagus, were a plumptuous brace of scallop shells, filled to their pretty frilled edges, would have James Joyce lusting as he did over Nora Barnacles "big full proud bosom", while my perfectly grilled whole Dover sole (€47.50), with lemon butter and wilted spinach, had a fine sweetness about its meat. Home cut chips (€4.50) were sparse and dry, coming under the 'could do better' category.
We passed on puds (€8.50-€10), including chocolate and orange delice; Wexford ice-cream; frozen strawberry souffle; and an Irish cheese board.
There's any amount of Champagne, before/after dinner cocktails, gins et al, the bon viveur might desire. With the entry level of wines at €32 by the bottle and €8.50 by the glass, we were slightly selective, preferring quality over quantity with a modest glass each of a delicious crisp Austrian Domane Wachau Federspiel Gruner Vetliner (€12 each) which, with water (€3) and service, brought our bill to €158.
SOLE
18-19 South William Street, Dublin 2.
Tel: (01) 544-2300
sole.ie
lucindaosullivan.com
First Published In The Sunday Independent