Restaurant Review - Old Town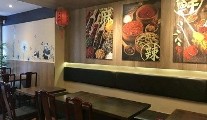 Wednesday 11 April 2018
Having been on a mission for quite a long time now to find a really good Chinese restaurant, when someone mentioned the Old Town Chinese Restaurant on Capel Street, I was off like a hare out of a trap. We had, in years gone by, a number of very good high end Chinese Restaurants in Dublin, but, when Thai food became the thing, rather than sticking to good Chinese food, lots of them wanted to become all things to all men and wound up incorporating not so great Thai and Japanese dishes, with some also installing Teppanyaki tables, which were a novelty for a period.
I've often wondered too, why Chinese chefs have stuck so religiously to their old style presentations, whereas, in contrast, Indian cuisine really took off a few years ago when they lightened and brightened their whole take on sub-continenental food. Flash forward a few years, and now many of them are achieving Michelin stars and a whole new customer base of people who might not have been as enamoured with the old-style flock-wallpapered curry-house food.
New years day
Having made an online booking, we wheeled up, on a bitterly cold afternoon, which also happened to be the first day of the Chinese New Year festival, the Year of the Dog. I wasn't quite expecting dancing dragons or firecrackers but there wasn't a lot of jollity in evidence, apart perhaps from a few red paper lanterns stuck up with brown tape on each side of the room. We were greeted pleasantly and shown to our table. The room itself was nice, in a sparse way, and a decorative little fish tank sat on the counter, but it was very cold for the entirety of our stay.
The menu was extensive. The first section listed what I would call popular Western dishes – spring rolls, prawn toast, aromatic duck, spare ribs, sizzling and seafood dishes. The second part of the menu, which had dozens of more off-piste dishes carrying Chinese and English descriptions, was more interesting as it had lots of items that would not be in our everyday diet, from whelks to chitterlings, white gourd to brined pigs ear or beef stomach in chilli sauce.
Hot hot
We were three, and ordered from both menus, kicking off the New Year 'celebrations' with some salty and spicy chicken wings (€5.40), which were very small – they tasted ok, but they certainly weren't as good as the ones at our local takeaway. Boiled pork dumplings (€6.40) in a bowl with red oil, on the other hand, were delicious, silky, hot and tasty, even if they did remind me of the commercial ones you can buy in Asian food stores. We also liked a dish of hot hot cold cold julienned jellyfish and cucumber salad (€11.80), which I've had before and always love. It's a bit like eating chilled glass noodles and cucumber strips in that Nordic sweet sour vinegar combination but beefed up in a big way with a very spicy red chilli sauce.
I fancied razor clams to follow, which were listed in various combinations, but they didn't have any, and the Diet Coke had sold out the previous night too! So, with the waiter standing over me, and dozens of listed dishes looking up at me from the menu, I took his recommendation of prawns with a 'magic chilli sauce' at €16.80. Was it magic? There were plenty of good chunky prawns tossed with chilli flakes, green and red pepper, onions and carrot, but I wasn't enchanted. Ian had also ordered prawns, this time with hot garlic sauce (€15.60), which was basically the same combination. "Nice", he said. Crispy duck with salted egg yolk (€15.60) appealed to me, and I beat Brendan into making it his choice. Basically, the salted yolks are used to create a crispy backing on the duck, but it was disappointing in that it was luke warm, rather dry and dense, and difficult to eat. I really enjoyed our order of dry hot noodles (€8.40), a big bowl with a crispy mixed topping and chopped spring onions.
So, with one fried rice (€3.40), one boiled rice (€2.30), a Coke (€2.30), a Tsingtao beer (€4.30), and service, our bill came to €100. Expensive enough in the setting, and sans a bottle of wine, so sadly, I still haven't found my new dream Chinese restaurant.
Old Town,
123 Capel Street,
Dublin. 1.
Tel: (01) 873-3570
facebook.com
lucindaosullivan.com
First Published In The Sunday Independent