Restaurant Review - Elle's at the Iveagh Garden Hotel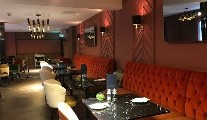 Wednesday 04 April 2018
"They can sit down the back, not where the shoot will be", said the diminutive be-suited whipper snapper, without throwing us a backward glance, as he gestured to the young girl who'd met us entering Elle's Bar & Bistro at the new Iveagh Garden Hotel on Harcourt Street. I thought of the suave service professional, Fred Seriex, Maitre d' of First Dates, whose motto is "see, smile and say hello to people, before they see, smile, and say hello to you"! We weren't exactly Elle MacPherson and Naomi Campbell but we were there to spend our dosh. €40m has been invested in the Iveagh Garden, a modern build with a Georgian facade, and a sister hotel of the long-standing Harrington Hall and the Harcourt Hotel.
Missing in action
With a fine bar to the front, a rear dining area and open kitchen, plus a terrace, they offer a "concise seasonal menu". That was certainly true and a little unimaginative in these times. A half-dozen starters (€6.50-€12) included a ham hock salad; Caesar salad; and a goats cheese mousse. Rena's choice of cured salmon (€10.50), was a nice clean-cut presentation of pickled cucumber, sliced fennel, avocado puree, and wasabi mayo, but a bit of brown bread wouldn't have gone astray. North Atlantic crayfish cocktail (€12), tossed in an 'Irish Whiskey Marie Rose sauce' on iceberg lettuce, arrived toute seule in a Martini glass sans any base plate, or eating implement. A dinner fork being too cumbersome and, with nowhere to rest it but the bare table, a bit like double dipping, I asked for a small spoon, to be first brought a soup spoon! Also in absentia was chargrilled soda toast and, on hailing a tall chap in a suit, he brought a small slice of hastily warmed bread, saying "there you are my dear", as if doing me a favour, rather than "I'm sorry about that Madam, I hope everything is ok". What was it like? Nothing special – little crayfish tails are cheap as chips in the German supermarkets, and it all seemed damned careless with such simple starters and no one else dining then.
Mains (€22-€32.50) included fillet and sirloin steaks; chicken supreme; pork chop and belly with prune and Armagnac; and hake. Sides were a hefty €6. After quite a wait, happily, Rena's spelt risotto (€20), with mushrooms, long stem broccoli, Parmesan and cress, proved delicious. Again, as Rena said, I drew the short straw. Barbary duck breast (€26.50) needs to be quickly seared and served rare, sliced thinly, otherwise it's tough. This big boy was split down the middle and plonked on what were rather nice cube potatoes, turnip puree, navets, and a couple of cherries.
Farcical issues
"It smells very high – gamey – awful", said Rena, as I hacked off a piece for her to try. "It looks like two big lumps of pig's liver." In fairness, the waiter didn't quibble, offering to take it off the bill immediately, after I'd tried in vain to spear a duck breast half with my fork.
We shared a gluten-free chocolate brownie with vanilla ice-cream and Valrhona chocolate sauce (€9), which was very nice – if again pricey.
There were other farcical service issues which need to be tackled. Rena's starter plate was removed by one waiter as I said "Don't, we're not finished". And, on ordering a glass of a Merlot (€6.95), her choice was queried, as the waiter, said "why". She looked at him puzzled for a minute – "you're having fish", he said. "It's a cold night and I want a glass of red." As to my glass of Leopard's Leap Chinin Blanc (€8), he said "you can change to red with your main course." Meanwhile the diminutive suit, strutted around, stopping to survey his empty dining section just two feet from us, but never enquired as to our experience. Perhaps he was looking for the "shoot".
The bill was incorrect, as yet another waiter stood over us with a credit card machine. "Give me a minute, please", I said, checking it with my iPhone torch. We were down as having a Caesar salad, and the risotto was charged at €26.50 – the same price as the duck which had been removed. With €6.50 removed from the bill, two glasses of Merlot and the Chenin Blanc, bottled water (€5.95) and service, the bill came to €89.35. "The food is very hotelly, isn't it", said Rena as we departed.
Elle's Bar Bistro,
Iveagh Garden Hotel,
72-74 Harcourt Street,
Dublin 2.
Tel: (01) 568-5500
iveaghgardenhotel.ie
lucindaosullivan.com
First Published In The Sunday Independent