Restaurant Review - Ashford Castle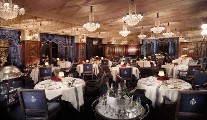 Wednesday 21 March 2018
Emmanuel Macron may be allowing the Bayeux tapestry on a tour of Brexitland, but Ashford Castle at Cong, Co. Mayo, one of the jewels in the crown of Irish tourism, has a colourful story of battles and love, woven into the annals of Connaught's history, that could rival any story the tapestry has to tell.
Built by the Anglo-Norman de Burgo family in 1228 as their principal stronghold, following their defeat of the O'Connors of Connaught, it remained under their control for three centuries when they lost out to Sir Richard Bingham, Lord President of Connaught. Each owner added to the Castle; Bingham by way of a fortified enclave within its precincts, while a couple of hundred years later the Browne family added the fabulous Ashford Estate and a French style chateau. In 1852 it passed to the Guinness family who during their tenure, with unlimited funds to hand, extended the estate to 26,000 acres, built new roads, planted thousands of trees, and added two large Victorian style extensions.
From history to Hollywood
Becoming a hotel in 1939, it really came to prominence in 1951 when John Ford, the legendary Irish-American movie producer, came to film 'The Quiet Man', with many of the stars – John Wayne, Maureen O'Hara and so on – staying in Ashford. It's changed ownerships over the past few years, and went through tough times during the recession with money for essential renovations being beyond tight. I visited during that time, and while still magical, it was in need of a Fairy Godmother with big bucks to spend on it.
Salvation came in 2013, when Bea Tollman of the Red Carnation Hotel Collection fell in love with it. Over the past five years, they've ploughed €75m into restoring Ashford, adding a state of the art spa, a retro-style 30-seat cinema, a billiards room, and an amazing wine cellar in tunnels under the castle, through which, in the Guinness days, staff came to work collecting coal buckets on the way.
Celebrity visitors have included Princess Grace, Brad Pitt, and more recently, Rory McIlroy, who followed Pierce Brosnan in choosing it as the venue for his marriage to Erica Stoll. I'd been there a couple of years ago, when the first half of the renovations were done, but prior to the arrival of new Executive Chef Philippe Farineau.
Course by course by course
And so, we arrived recently in best bib and tucker to the George V Dining Room (yes he stayed there too) for dinner beneath the spectacular chandeliers, where I had an 8-course Tasting Menu (€90) and Brendan went lighter with the a la carte.
Velvet Cloud sheep yoghurt for me was presented as an elegant edible garden of fermented carrot, pickled mushrooms, foraged garden flowers, carrot meringue and balsamic walnut. This was followed by stunning squid ink Connemara brown-crab ravioli in a shellfish sauce, and then by a perfect little rectangle of wild hake with rainbow beets and sea spinach in an amazing black and flame coloured dish. Skeaghanore cured duck, in a line-up broken by rose 'crackers' and marinated fig, was delicious, as were pink rondelles of loin of Achill Island lamb grouped with sage gnocchi, butternut squash, sprouts leaves and black trumpet mushrooms. Seared aged hanger beef was next and while delicious, I was hard put to have more than taste.

Dessert on the Tasting menu was a superb presentation of Orelys blonde chocolate cream with pear caramel, yuzu, and vanilla, with coffee and petit fours.
A lighter load
Brendan meanwhile, from the a la carte, was enjoying a starter of seared scallop with Angus oxtail and fermented kohlrabi cannelloni, caramelised cauliflower, hen of the wood and pistachio crumb (€21.50), followed by a tranch of delicious line-caught halibut (€39) with Connemara clams, smoked onion, charred leek and burnt shallot.
With a bottle of Bouchard Finlayson Crocodile's Lair Chardonnay 2015 (€45), and 15% service charge, our bill came to €224.82 and was worth every penny given the setting, service and exquisite food. Out of season is the best time to bag yourself a bargain as regards overnight packages, but either way, it's a memorable experience made extra special by the staff here who give it that real Irish twist.
Ashford Castle,
Cong, Co. Mayo.
Tel: (094) 954-6003
ashfordcastle.com
lucindaosullivan.com
First Published In The Sunday Independent