Restaurant Review - Bun Cha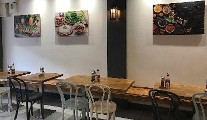 Wednesday 14 March 2018
"I can see you're not enjoying your food, so I'll bring out some of the prawn and crab balls so you know what they're like", said the chef, looking down at my virtually untouched bowl of noodle soup. The missing 'balls' were the reason I'd ordered it in the first place; and only when I went digging into the bowl looking for them and queried their absence, did the waiter say blithely, "they weren't ready - sorry".
We were in Bun Cha, a new Vietnamese 'street food' eatery on Dublin's famous Moore Street, which is very different from the days when Rosie, the Queen of Moore Street, sang out of her fruit and veg. It's still a street of market stalls but is now a multi-cultural locale with eateries, Asian food stores, plus Afro-Caribbean wig and phone shops. Seeing Bun Cha's opening on Instagram, with lovely pics of food and an interior with wood-panelled walls and plush seating, I thought, 'that looks good', and clearly it was a professional operation as money had been ploughed into the website too, with the 'company's story' and a lot of waffle on 'why Vietnamese food is healthy'.
Shutter nonsense
It opened at 11.30am, my friend had been told, but on getting there shortly after noon for our Sunday reservation at 12.30pm, the shutters were down. A chap arrived along with a box of supplies and the shutters were raised to let him in, as they were about to be pulled down again, we enquired the situation and were allowed in, though the young girl working inside didn't look too pleased.
It was simply decorated with a takeaway counter, all fine and cute in the takeaway small eatery category, but where were the plush interiors I'd seen on the website? "Is there an upstairs?", I asked. No, that was it, and the kitchen was below ground.
Skimping on the shrimp
I like Vietnamese food, not for any proclaimed benefits, but for its aromatic and spicy flavours. Having been a former French colony, it's architecture and cuisine bear the influences of occupation. Its most popular dish, Pho, a broth-based dish of noodles, herbs, fish or meat – generally beef – made popular by the French – basically comes from the French stalwart pot au feu stew. So, the repertoire is shown as noodle, rice, baguette sections (€5.50-€9.50) and sides (€1-€3.50).
Vietnamese summer rolls were available, either with prawns or just veggies. These are made from dampened sheets of rice paper generally filled with crunchy fresh vegetables, fresh green herbs - mint, Thai basil and coriander - and rice noodles. Ordering the prawn variety (€3.50), two chubby rolls arrived up and looked fine, but when I bit into them, they were just tasteless lumps of starch overfilled with noodles and a leaf or two or greenery. I opened one up to reveal one prawn sliced lengthwise to look like two prawns through the rice paper. I left it. Even the dipping sauce lacked the usual zing. My friend ordered fried spring rolls (€3.50) which had been cut in half and looked like four tired, burnt up sausage rolls.
Cold beef and no balls
We'd enquired about the Pho dishes and I'd asked about the vegetarian version, but it wasn't available, as the vegetables "weren't ready". Next choice was a hot and spicy Bun Bo Hue noodle soup (€9.50) with beef and, the clincher, 'prawn and crab'. It looked good in the picture with slices of lean beef, and what I got was a fine big bowl, but it also had pork and slices of awful looking beef with firm gelatinous layers running through it. The tiny bit I tasted was dry and cardboard like. The broth was a light stock with chilli served on the side, which I lashed in, but there was no sign of the prawn and crab balls. My friend ordered beef curry (€8.50), which was lukewarm, and needed stirring due to a slight skin forming on top. The accompanying baguette was the best part.
So, back to where we came in, the chef returned with four marble-sized crab and prawn balls for my Pho, saying you usually just get two in the Bun Bo Hue. At that point, another lady went to use the bathroom to be told it was out of order – she was clearly annoyed and stormed off. It had, we were told by the waiter, been "out of order for three days due to a blockage from the restaurant next door and they were trying to fix it".
The bill, including a bottle of coconut water (€2.50) and a fried golden rolls side (€1), came to €28.50.
Bun Cha
11 Moore Street, Dublin 1.
Tel: (01) 535-8881
buncha.ie
lucindaosullivan.com
First Published In The Sunday Independent