Restaurant Review - Glovers Alley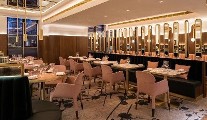 Wednesday 07 March 2018
"I've no time in my life anymore for arsey places", said a friend recently, as we discussed some of the Michelin-level food on the go nowadays in diverse casual spaces from markets to neighbourhood gaffs to gastropubs. It's no longer the perogative of hoity toity silver service places with fawning flunkies. I thought of him as we emerged from the lift on the first floor in the Fitzwilliam Hotel into the new Glovers Alley, to be greeted by a sea of smiles from some of the city's most professional front of house faces, and I could just see him, retreating backwards and hitting 'Ground'.
Glovers Alley is the much-hyped new restaurant in the space formerly occupied by Kevin Thornton, until, having lost his Michelin star in 2016, he closed shop. Generally regarded as a bland hotelly space, kept going by Thornton's drive and amazing food, it's been empty since.
It's a big step for chef Andy McFadden, but if good food alone is to bring the punters up the stairs, he deserves to succeed. From Tallaght, McFadden has spent the best part of the last decade at London's Michelin starred Pied a Terre and L'Autre Pied (which is now closed) restaurant group.
All aboard!
€1.3m has reportedly been spent on revamping the place by, in PR speak, "re-imaging Pullman-Class dining through a contemporary lens". To define it simply; five parallel rows of banquette seating have been dropped in to the shell pink and green main room. Seated in the central doubled sided section of low backed booths, we knew in a flash what the people they'd put right behind us, in the otherwise empty room at that point, did for a living. We moved. With a supervisory desk at the top of this section, and pacing, if ever attentive, staff, it began to feel like dining in the first class section of the ferry to France. The kitchen is totally detached, at the 'stern' of the ship, outside of which there's a lounge area and long chef's table. It felt like it needed activity somewhere, be it a bar, or an open kitchen – Something to add life.
Flavour to savour
The food is another matter! A 7-course Tasting Menu at €80 also had the option of a cheese course with a €12 supplement. There is also an a la carte menu at €65/€80 for 2/3 courses but was not yet available on our visit. It was first night, and diners were brought a glass of Champagne, which we enjoyed with 'snacks'- Parmesan gougere mouthfuls and heavenly violet artichokes, scooped out, the skin crisped, filling replaced and topped with finely grated cheese.
We kicked off with a pillow of Clogherhead crab, draped in white turnip wafers, sitting in a ponzu dressing and topped with sorrel, followed by a brace of smoked cheddar dumplings, topped with threads of crisped ham hock, sitting in a Pommery grainy mustard dressing. The combination of smoky, crispy and mustard flavours, was truly memorable. Our third course too was spectacular with violet artichokes, and grapes sitting on a radicchio boat with hazlenuts and foie gras melange. Rena doesn't eat foie gras on ethical grounds, so her version was lavished instead with truffle shavings. Next up was a lozenge of pollock in a little forest of textured colourful brassicas. I'm not a pollock fan, but Rena loved it. With these courses I had a glass of Emrich-Schonleber, Riesling trocken, from the Nahe region of Germany at €10, well recommended by the sommelier.
It's all about the food
We moved on then to kid goat, (lamb for Rena), crisp belly, shoulder and pink pink fillet, with Gaelic escargot and delicious anchovy gremolata. With that, I had a glass of Austrian Carnuntum, Muhr-Van der Nieport, Blaufrankish (€13) which I found a tad harsh.
Moving on, a grapefruit granita and Velvet Cloud sheep's mousse with honey and lime brought lightness and freshness, before we were indulged further with heavenly triangular sandwiched layers of Itakuja chocolate, passion fruit and blood orange. An espresso for me elicited further treats by way of petit fours.
Our bill with optional service came to €201. "It's a foodie experience, you wouldn't just drop in", commented Rena. She was right, superb food by McFadden, I just wish the place itself wasn't quite so precious.
Glovers Alley,
Fitzwilliam Hotel,
128 St. Stephen's Green, Dublin 2.
Tel: (01) 244-0733
gloversalley.ie
lucindaosullivan.com
First Published In The Sunday Independent