Restaurant Review - Bresson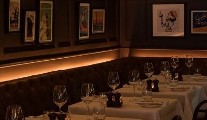 Wednesday 28 February 2018
"All roads eventually go back to French cooking 'tho we wont' be chained to it…it will be a casual fine dining restaurant for grown ups". Said Temple Garner of Bresson, his new French restaurant in Monkstown. Garner has spent many years bringing us Italian food in the city centre, firstly, way back in time at Il Primo. Here he met Ronan Ryan and the pair opened the former Town Bar & Grill on Kildare Street, the haunt of politicians, developers and journos keeping a weather eye open over their pasta. Next was San Lorenzo, another citified contemporary Italian on South Great George's Street. It is interesting now to see Garner opening in the 'burbs', where these days some of the best cooking is going on by chef patrons, and not the 'big boys' who employ constantly floating kitchen crews with more interest in the pay packet and pints than your poisson pie!
Spotting the gap
Monkstown already has something in the order of 1100 covers with a number of excellent restaurants, none of which are French. The gap was there, and Garner, in partnership with Conor Kavanagh, has done a great job on creating a buzzy neighbourhood brasserie vibe in the former Seapoint restaurant.
"The drinks are very reasonable", Rena remarked of the uber-expensive Grey Goose vodka at €6, on the extensive drinks menu. Seven starters (€9.50-€15) all sounded attractive and were, as Rena later said, even better on the plate. Pied de cochons, or crubeens as we know them, were with Savoy cabbage choucroute, mushroom ketchup, black pudding and crumbed hens egg, while Roquefort cheese and conference pear salad had spiced walnuts, heritage beetroot and endive with a truffle and honey vinaigrette. Crab creme brulle and a salmon tartare also featured but Rena had bouillabaisse (€14.50). Too often have I sat down to so called 'bouillabaisse' with watery liquid defeating the earthy origins of the peasant French fisherman's stew, made out of bits and pieces of various fish. This, of course, being a 'posh' restaurant was a refined version with crevettes, mussels, palourde clams and poisson hache, topped with crab mayo toast, and espelette pepper – but most importantly, the jus was a cracker. Sauteed duck livers (€12) was a delicious mélange of strong rich livers tossed with Puy lentils, charred onion leaves, Bayonne ham, frisee salad and date chutney, reminding me of frequent summer trips down to the Languedoc.
Great quack!
Mains (€22-€42) had Cordon Bleu style grilled breast of Bertram Salter's Carlow free range chicken with Bayonne ham and Emmental, Chantenay carrots, baby leeks, new potatoes, Pommery mustard crème, and tarragon jus, while the other classic of coquilles St-Jacques winked at me for next time. Plenty of boeuf featured by way chargrilled fillets; 10oz striploins with black trufffle, watercress and béarnaise; and Cotes de Veau – Limousin bone in striploin of veal.
Rena loved her tranch of wild Brittany seabass (€28), offset by a pretty semi circle of calamari, roast cauliflower florets, preserved lemon, ratte potatoes, confit fennel, Pernod and chervil beurre blanc.
Duck a l'orange (€28) was a far cry from the old wallop of half duck drowned in a sickly sweet orange sauce but a cool presentation of pink sliced Skeaghanore duck breast, pictured below, the richness of the bird offset by the bitterness of divine confit Seville orange peel, blood orange and basil salad, candied endive, duck fat roasties and star anise. Duck heaven.
Tasty trifle and sticky pud
I often pass on desserts, or share one, but once we saw the list, plus a cheese board at €14.50, we were lost succumbing rapidly to a prune and Armagnac trifle (€8.50) and sticky toffee pudding (€9.50) with Medjool dates. Both divine.
The wine list is extensive with prices for everyone, plus over two dozen wines by the glass. We finally chose a delicious bottle of Max Ferdinand, Richter Zepplin Riesling, Mosel 2016 (€37) which with bottled water (€4.50) and service brought our bill to €157.
'We're here for the long-term". Said Garner, as we departed. If they keep this standard up, I think he's right.
Bresson,
4 The Crescent,
Monkstown,
Co. Dublin.
Tel: (01) 284-4286
bresson.ie
lucindaosullivan.com
First Published In The Sunday Independent