Restaurant Review - La Brasserie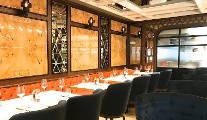 Thursday 08 February 2018
In the new La Brasserie, which has as much bling as could be fitted per square metre, one could be forgiven for thinking you were on High Street Marseilles, Milan or Monte Carlo – we were, in fact, down a side lane in Maynooth, Co. Kildare. It's a town that has changed dramatically over the years, once being best known for its seminary and the beautiful Carton House Hotel, ancestral seat of the Earls of Kildare. Nowadays, it's not just scores of seminarians on the streets – becoming a University town with students from all over the world changed that, as did the M4, making it a buzzy commuter town.
Still, knowing all that, I didn't expect to see fresh oysters on ice and Champagne in a bucket on the marble bar, particularly at lunchtime on a bleak Tuesday – indeed I'm not sure that I'd have seen them in a 5-Star city hotel. When we arrived, the only customers were two smiling Japanese girls and we were quickly offered a spacious booth by the friendly formally-attired waiter.
The new sibling to Bistro 53 on the main street, La Brasserie's large central bar, on parquet flooring, glistens with marble, brass and glass – surrounded by colourful coral and purple velvet banquette seating and booths, beneath more retro style decorative marble panels.
Bubbles, Classic Cocktails and a Gin Corner selection, all neatly priced at €11.50 a pop, headed up the a la carte menu, but we were on the job, and I was driving, so that put paid to any notions of frivolity. It was water (€3.50) for me.
Starters (€8-€18.50) certainly continued the tone with foie gras matched with pear, candied walnut and brioche, while Harty's and Clarinbridge Native oysters came in at €14.50/€18.50 per half-dozen. Mains (€22-€34) sported saddle of venison with parsnip, celeriac, carrot, blackberry and wild mushroom, and monkfish with cauliflower, light curry batter, and mangetout. A chicken ballotine was also there, as was fillet of beef with truffle mash and a Madeira jus. On coming in, I'd also clocked what the two Japanese girls were eating – shrimp bucatini in a creamy sauce and black truffle risotto, which were from a short lunch menu and which looked damned good. So, Brendan, decided he would run with that menu, which had starters €6/€7, mains €14 and puds at €7, all of which proved to be brilliant value, while I made selections from both menus.
Heart and sole
I kicked off with mouthwatering handmade cushions of courgette and prawn ravioli (€7), draped with a pepper veloute, cucumber ribbons, and topped with a perky prawn (pictured below). Meanwhile, Brendan had a very pretty presentation of gin, beetroot and salmon gravlax, topped with frisee, croutons, and blobs of beetroot puree (€7).
Dover sole, on the bone, can be tricky enough. A minute too long in the cooking process and you have a cotton wool tasting mush, a minute too little and dragging it away from the bone can be off-putting. This poisson was perfection, with the right degree of bite, served with an aubergine caviar and salsa vierge, and, at €34, was a fair price. Brendan's roasted cod (€14), served Toulouse style on a bean cassoulet, topped with a slice of lime, was excellent too. They also brought a little bowl of boiled potatoes and mangetout. I think we were a bit blown away by the excellence of it all – the cooking was precise and well executed. To finish, we shared a pleasant enough chocolate and pistachio domed mousse (€8.50).
The only bummer was that, neither on phoning that morning, nor on arrival, was I advised that they weren't yet set up for credit cards. It's a bit of a comedown in a restaurant, particularly with 'aspirations' on all fronts, to be told there's a "cashpoint up on the main street" – not an attractive proposition on a wild wet day – nor would it be at night. I had cash, but it could have been embarrassing. It would have been more appropriate to take my card details and process them in their other restaurant or when they were set up.
Our bill, with two glasses of Lagunilla Rioja Crianza 2014 (€8.50 each), a double espresso (€3.50) and service, came to €104.50.
La Brasserie,
Fagan's Lane,
Maynooth, Co. Kildare.
Tel: (01) 685-3742
facebook.com/labrasserie
lucindaosullivan.com
First Published In The Sunday Independent