Restaurant Review - The Guinea Pig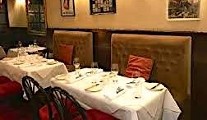 Wednesday 31 January 2018
After 42 years of waving the pots and pans at the legendary Guinea Pig restaurant in Dalkey, Mervyn Stewart has hung up his apron to spend more time in the sunny climes of Malta, where he has a home. The Guinea Pig has actually been in business for over 60 years and has become renowned for its fabulous fish, with virtually every big name you can think of crossing it's doorstep including John Wayne, Princess Grace, Sharon Stone, Liam Neeson, Chris and Diane de Burgh, Meryl Streep, Pierce Brosnan, the late Hugh Leonard and Maeve Binchy who both lived nearby, and, of course, another local resident, Bono, whose favourite dish I'm told is fillet steak, medium rare, with soft onions and mash.
Changing of the guard
While Mervyn will be missed by his regulars, everyone can rest assured that the precious Pig is now in very good hands and that the menu will retain its favourite dishes. It has been bought by Jerome Fernandes, a French chef, who also has La Reserve, the very popular brasserie in Ranelagh. Jerome is originally from the Burgundy region and his brother has a Michelin restaurant in the South of France, but he has lived here for some years being married to a North Tipperary girl. He's a man born into good food, but he doesn't play the celebrity chef game, he just concentrates on his customers.
We popped along in the same week that he'd taken over, prior to his planned redecoration of this very pretty and quirky old building. It's set over two ground floor rooms, with a bar in the front room where new banquette seating is being installed. The quirkiness of the building and its coastal location is what appealed to Jerome, in fact it is very much like something you would see in France.
Pigging out
The Market Menu – their early dinner menu – offered 1/2/3 courses at €19/€22/€27, while a Discovery Menu at €85 offered 4 courses for 2 with a bottle of wine. Both have an excellent selection of dishes, including the Pig's famous fish pie, a fish mixed grill, slow braised pork belly, honey roast half Pekin duck and a 10oz rib-eye steak (with supplements to these two value menus). The extensive a la carte menu would satisfy any gourmand and includes sauteed foie gras; grilled Dover sole on the bone; Dalkey lobster – Thermidor, garlic or with lemon butter; sauteed scallops; dressed crab and more.
We had three courses each from the Market Menu, which was great value indeed. Starters included seafood chowder; fresh water prawn salad; chicken liver cassolette; and goats cheese with beetroot, apple, mint and parsley pesto, and candied walnuts. Son, Aidan, kicked off with a steaming bowl of traditional French Onion soup, perfect on a cold night with its intense beef stock, caramelised onions, croutons and melted Gruyere. I also loved my 'smokies', (pictured below), piping hot and bubbling in a copper pan filled with baked smoked cod immersed in cream, tomato, fresh herbs and Gruyere.
High on the hog
Moving on, Aidan had slow-braised pork belly with a plum and pistachio ballotine and creamed mash potato, served with a cassolette of green beans, crisp broccoli and cauliflower florets. Again, he loved it, commenting on how tender the pork belly was, which we were subsequently told had been traditionally braised for a long time in milk. My Pekin duck (sup €7) was equally good, crispy skin, soft meat, served on red cabbage with a brace of fondant potatoes and a plum sauce.
Desserts included brioche bread and butter pudding with an orange salad and ice-cream; profiteroles with Valhrona chocolate sauce; or a selection of two cheeses, Irish and French, with a homemade fig jam. For Aidan, there was only one choice, a real French crepe with Valhrona chocolate and ice-cream, while I had a superb presentation of chocolate mousse in little balls interspersed with raspberries.
The wine list is extensive and well priced. So, with two glasses of Chilean Havalos Merlot 2015 (€6.50 each), bottled water (€4.50), two espressos (€2.50 each) and optional service, our bill came to €92.40. Yes, I think the Guinea Pig diners are going to be more than happy – it will certainly be on my regular visiting list.
Guinea Pig,
17 Railway Road, Dalkey,
Co. Dublin.
Tel: (01) 285-9055
guineapigrestaurant.com
lucindaosullivan.com
First Published In The Sunday Independent