Our Latest Great Place To Stay & Eat - The Savoy Hotel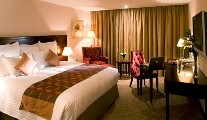 Tuesday 30 January 2018
Centrally located with all of Limericks sights and sounds right at the doorstep, it's the perfect base from which to explore all that the city has to offer.
From the moment you arrive, you're treated like royalty in plush, elegant surroundings. At the Savoy, they offer 92 lavishly adorned rooms, featuring king size beds with Egyptian cotton sheets, multi-channel flat screen TVs, WiFi as well as marble bathrooms stocked with Molton Brown products, fluffy robes and slippers along with all the other features and amenities one would expect of a five star hotel. If you want to steps things up a bit, book one of their 42 executive level rooms for a little extra space and luxury as well as access to their superior executive lounge on the 7th floor, or maybe even go for one of their 7 stylish junior suites offering separate lounge areas and delightfully spacious Italian style bathrooms.
Once you've got settled, head for the leisure centre where, if you're the relax and pamper sort, you can enjoy an extensive variety of treatments to, as they would say, renew, replenish and restore your body and mind. However, for the more active folks out there, they offer complimentary access to their gymnasium and swimming as well as Jacuzzi and steam room facilities.
When it comes to food and drink at the Savoy, you are more than covered. The Savoy Restaurant is as stylish and elegant as the rest of the hotel, and the menu there offers a great selection classic food with contemporary twists along with a selection of specialty wines from small vineyards around the world. Open throughout the day, it's a perfect place for a romantic dinner, a meal with friends or even a formal get to together.