Our Latest Great Place To Eat - The Seafood Cafe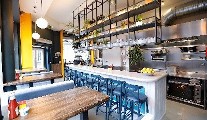 Friday 26 January 2018
Chatting, sitting on high stools, breaking open shells and eating with your fingers, having a plate and then ordering another – that's how Niall's amazing array of fresh shellfish dishes are meant to be enjoyed. His aim has been to make sea food less 'posh' and more accessible.
The latest addition to the trio of cafes is The Seafood Café on Fownes St Upper in Temple Bar. It has a very attractive casual cool vibe but with just that little hint of the high end, which is made even more apparent by the quality of its fishy fare. Situated on a corner, city life buzzes by while you sit along their diner-style counter-top or at one of the raised benches and pour over the menu. Oysters are the speciality here and are served naked, dressed or torched. All are proudly Irish, sourced from Waterford, Galway Bay, Connemara and The Burren.
Popping in for an afternoon bite with a friend, I was looking forward to some really good seafood, and I wasn't disappointed. The menu had lots to offer with great shellfish like grilled local lobster either halved or whole lobster, whole grilled Dublin Bay prawns, mussels and crab. Besides from great shellfish though, there's a lot more to tickle your gills, such as a fire grilled whole seabass, linguine with wild clams or their East Coast fish and chips (fish changes daily) served with tasty hand cut fries. If it's a smaller bite you fancy they do some great snacky food like salt cod croquettes, Dublin Bay prawns and wild mushrooms on toast, as well as a great smoked Pollock and cockle chowder.