Restaurant Review - Idas Restaurant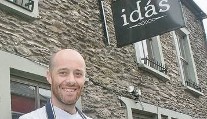 Wednesday 24 January 2018
"You can use it as an obituary" said Kevin Murphy, laughing somewhat ruefully, on hearing that I'd a review of his Idas restaurant in Dingle coming up. He'd just announced on Facebook that he was unfortunately closing his beloved Idas "in its current form" on New Year's Eve.
Kevin Murphy had been drawn to his ancestral turf four years ago, initially opening a restaurant just outside Dingle Town. His great-grandfather, Padraig O'Coilean, had been known by his nickname of Ida and so Idas it was. Murphy is an exceptionally talented guy, a trained artist and self-taught chef, which might sound strange, but some of the most famous chefs have been self-taught – including the iconic Charlie Trotter, Thomas Keller, Raymond Blanc, and our own, also very artistic, Kevin Thornton.
Having initially operated a more standard style restaurant, he moved Idas into town, focusing on neo-Nordic style cuisine using the produce of this wild and windswept peninsula. He also took the somewhat bold step at the start of 2017 of offering only a tasting menu, which can be both attractive for the variety and skill over the courses presented, and off-putting, in that not everyone wants to be locked into a minimum spend. Located in an old stone building on John Street, everything about the interior reflected the earthy stone and grass colours of the local area, with foraging, fishing and fermenting, being essential elements of his cuisine.
Course by course
On our visit we'd experienced a stunning 5-course West Kerry Tasting Menu at €60, with a vegetarian version being €50. An additional wine pairing had been offered at €50 per person but, maybe like many tourists floating through Dingle, we'd decided to keep the wine within budget, choosing instead a modest bottle of La Petite Source Le Clos Pays D'OC 2016 Vermentino-Chardonnay.
We kicked off with lovely bread accompanied by 'snacks' – two carefully placed halved mini radishes, topped with garlic aioli, on a stone covered sharing board, with what were carefully explained at the table, as was each course, as sorrel, pennyworth, sea-aster and chickweed. This was followed by a beautiful little heather-coloured bowl containing a 'blobeen' of feather light fresh soft cheese with fermented tomato, pak choi and a nasturtium leaf, topped at the table with a clear tomato essence.
Our next course, Lios Poil confit egg yolk, radiated up from the plate like the golden sun in one of Pat Scott's paintings. At first glance, I thought it was steak tartare but realised quickly that it was a very clever base of finely diced pickles, which were crunchy and delicious with the egg melded through them.
From fish to foam
A mid-course of Ballyhoura mushroom, topped with a golden fermented lettuce crisp, was a mouthful of absolute heaven. However, moving on, despite a passion for the colourful works of Jackson Pollock, pollock the poisson generally leaves me cold, but this fishy creation, with a whey butter sauce and sea beets, once again raised the bar bringing the humble pollock into a different sphere.
Four standing rondelles ensued, the colours literally dancing off the plate, a brace each of silky succulent pink West Kerry lamb, and vibrant charred sweet carrot, grouped with a sprinkle of samphire dust. A tart sorrel foam with Granny Smith apple and lemon followed, clearing our palates for the delicious presentation of blackberries, meadowsweet and Dingle gin.
With a bottle of La Petite Source Le Clos Pays D'OC 2016 Vermentino-Chardonnay from the Languedoc (€29), a bottle of water (€4.95), and service, our bill came to €169.95.
No regrets
So, you are in fact reading about a restaurant that is now closed, but If he were in a big city location, people would be battling for seats at his table. Murphy has exceptional talent and the spirit of Idas will live on in a new venture to be announced this year. Over the past 12 months, he and his team served 17 different menus, of which he was justifiably proud, but, "the market wasn't there for what we were doing", he said. "I'd never worked in anyone else's kitchen, and probably did it more as an art project than a business. I've closed the door, but I have no regrets."
Idas Restaurant
John Street, Dingle, Co. Kerry.
Tel: (066) 915-0885
idasdingle.com
lucindaosullivan.com
First Published In The Sunday Independent