Our Latest Great Place To Eat - Hooked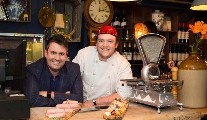 Tuesday 23 January 2018
The owner, Anthony Gray, is the restaurateur who has brought us Eala Bhan and Tra Bhan, which have put Sligo firmly on the foody Wild Atlantic Way map. Not only that, but Anthony is passionate about using and promoting local produce and proudly lists all his suppliers on his menus, the majority of which are Sligo based.
Hooked does breakfast from Thurs to Sun, and Brunch and Dinner all week. Go for Thick Fluffy Crepes or The Breakfast of Champions (egg white muffin with spinach, feta and cherry tomatoes) as an alternative to the typical Full Irish you might have at home. The brunch menu is extensive and is both a tribute to the carnivores among us and an homage to Anthony's father, Joe, who was an award winning butcher. Part of the main counter in the establishment is made of Joe's old butcher's block, putting paid to any notion that the name 'Hooked' might suggest a seafood centric cuisine! There are options such as pork belly, stewed sausage, and white pudding and sausage sandwich.
The dinner menu has lots to offer with starters like southern fried pork cheeks cooked in Orchard Thieves cider; confit of duck potato rosti with a 63° Ballisodare free range poached egg; as well as a 'retro' prawn cocktail.
Mains featured plenty of satisfying meaty dishes, such as The Joe Mc Burger in a brioche bun with smoked cheddar, a white hag onion ring, bacon jam and truffle mayo; chicken Kiev filled with chorizo and a leek & lentil ragu; not to mention an 8oz Rib Eye Steak.