Restaurant Review - The Great Southern Hotel Killarney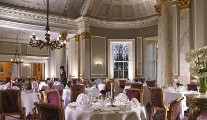 Wednesday 17 January 2018
There's joy and jubilation in the Kingdom, that The Malton Hotel, the 'Grand Old Lady of Killarney', is being rebranded later this month to, what many have always thought of and indeed still referred to it as, its rightful name — the Great Southern Hotel Killarney.
The Malton just never seemed quite right as a moniker for this grand mansion that had hosted celebrity guests from Princess Grace of Monaco to Jacqueline Kennedy, Tyrone Power and Charlie Chaplin — who stopped off there on his way down for his annual holidays with his extensive brood in Waterville.
It was originally a Railway Hotel, being right beside the railway station, but carried the GSH name from 1896 to 2009. Other sister Great Southern Hotels were in general also grandiose and gorgeous — often attracting the rich and famous. These included what is now the Parknasilla Resort & Spa in Sneem, to which people were transported to by horse and carriage from Killarney Station, and the equally splendid Hotel Meyrick overlooking Eyre Square, again conveniently located beside the railway station.
After various ups and downs, in 2014 The Malton was bought by popular local hoteliers Joe and Margaret Scally and their children and brought under the umbrella of the Hayfield Collection. All of the Scallys grew up in the hospitality business and it is in every fibre of their being, which is also reflected in their other hotels — the beautiful boutique Killarney Royal and Hayfield Manor which was Cork's first five-star hotel.
Since taking over, they have invested over €2m in a restoration project that has been an absolute joy to behold. It has undoubtedly restored the grande dame to her rightful place as a top destination in Irish tourism. The grand foyer is as it was a hundred years ago — straight out of a movie. Every little detail and service element was meticulous and under the hands-on constant supervision of Etienne van Vrede, CEO of the Hayfield Collection, and husband of Annemarie Scally.
Dinner in the garden
Dinner in the splendid Garden Room restaurant, with it's enormous domed ceiling, is an experience in itself. A table d'hote menu offered two courses at €38 or a full menu plus amuse, sorbet and coffee, at €45. Starters included a duo of Carrigcleena outdoor-reared duck — seared breast and confit bon bon, with carrot puree, celeriac slaw, blackcurrant compote; seared medallion of Irish Chateaubriand, gherkin & raisin salsa, baby leeks, foie gras beurre blanc; and a seafood chowder.
I kicked off with a delicious and elegantly presented saute of Mozambique prawns, shallot rings, garden peas and sauce vierge. Brendan's locally made Cordal goat's cheese (pictured below) was artistically set on a slate with marinated asparagus, baby turnip, quail egg and salsa verde.
Mains covered fishophiles and carnivores in ample measure, having an Asian-influenced baked fillet of monkfish paired with wilted samphire, shiitake, clams, scallop and cockles in a lemongrass infusion; pan seared seabass with sauteed fennel; and 36-hour braised short ribs or an 8oz entrecote.
Ring of Kerry lamb for me was a perfectly pink and sublimely tender rack, with parsnip puree, honey, chickpeas and thyme jus, while Brendan's Glin Valley supreme of chicken was equally good, wrapped in pancetta, served with baby pak choi, mushroom duxelle and a roasted garlic jus. These were accompanied by mixed vegetables and saute potatoes.
Desserts were also superb. Brendan made a rare indulgence in a warm chocolate and pear frangipane with a Galliano Anglaise and roast banana gelato, while I had a wonderful vanilla and white chocolate bavarois, with raspberry Chantilly and raspberry dust.
The Irish cheese selection, which we didn't have, looked impressive featuring smoked Gubbeen, Cooleeney, Camembert, Knockatee beara blue and Bluebell Falls Goat's cheese.
With a delicious bottle of Leitz Riesling 2015 (€35) and service, our bill came to €137.50, which was excellent value given our surroundings, service and food.
For anyone who has never experienced a Great Southern Hotel, treat yourself to a much deserved post-Christmas escape.
Garden Room,
Great Southern Hotel Killarney,
East Avenue Road,
Killarney, Co. Kerry
Tel: (064) 663-8000
greatsouthernkillarney.com
lucindaosullivan.com
First Published In The Sunday Independent