Our Latest Great Place To Eat - Croi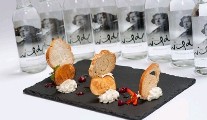 Tuesday 16 January 2018
I have always loved a getaway in Tralee. From the beautiful scenery that surrounds It, to the atmosphere and ethos of the town itself, the Kingdom has always been one of my favourite destinations to escape to. So, whenever I get an excuse to return there, I'm in the car and out on the motorway like a shot. My latest excuse to head south was the report a friend gave me of the new Croi Restaurant on the Square in Tralee. So, with that, I loaded himself into the car and we were off.
The brainchild of three members of the famed Tralee Culinary Gangsters, who've gained notoriety for their fab cookery demos, Croi is helmed by the uber-talented chef Noel Keane who is ably assisted by chef Paul Cotter, and, fronting the joint, so to speak, is Kevin O'Connor. With a wealth of experience to draw from, this had all the ingredients of a great place to eat.
After a long and rainy day on the road, the friendly welcome we received at Croi was a good start to affairs. The restaurant itself is warm and inviting with hardwood floors, exposed brick walls and some cool, dangly, old-style hanging bulb light fixtures. It had a little touch of coolness without anyone losing their hipster-heads.
The menu at Croi uses lots of home grown and foraged ingredients with the rest of the fare coming from local artisan suppliers. The mission here is to provide diners with a true taste of the Kingdom's best. Starters included Pan fried Kenmare bay scallops with foraged samphire & wild chervil butter; chicken liver pate with melba toast and Cumberland sauce; as well as a Wild Atlantic seafood chowder. While I was tempted by their truffles of Cordal goats cheese with a honey and thyme wild-blackberry gel, I just couldn't resist the Glenbeigh mussels which were beautifully presented and bursting with flavours of chorizo, garlic and onion and the Cronin's cider in which they were prepared. Meanwhile, Brendan helped himself to a spring roll starter of Skeaghanore duck confit and red cabbage, with which he has very impressed.
On offer for the mains, there were plenty of dishes to catch the eye and get those taste buds curious. Their flame seared Skeaghnore duck breast with carrot top and hazelnut pesto sounded great, as did a braised short rib of Kerry beef with creamed potatoes and a red wine jus. An 8-hour slow-roasted Blair House farm pork belly sounded a treat, with its charred chicory and butternut squash puree, not to mention a fillet steak 'Café de Paris', but, in the end, having memories of running around Banna Beach with my boys when they were small, I found myself drawn to the Banna Beach chump of spring lamb infused with wild heather and served with saute kale, roasted parsnip hearts and a garden pea & home grown mint puree. Fab! Himself, on the other hand, was practically watering at the mouth when his 8oz 35-day-aged Black Angus sirloin arrived at our table flanked by a hearty portion of mushroom and onions. Beautifully prepared with his choice of pepper sauce, he was absolutely delighted with his meal.