Our Latest Great Place To Eat - Mikey Ryan's Bar & Kitchen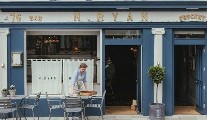 Wednesday 03 January 2018
Mikey Ryan's, a renowned old 19thC pub on the main street, was bought by John Magnier of Coolmore Stud fame. What attracted the multi-millionaire horse owner to an old pub, you might ask? Well, it backs on to the beautiful Cashel Palace Hotel, which Magnier also bought, making it the ideal link for casual posh pub dining in the overall plans to renovate and restore Cashel Palace to its former glory.
It's a massive project, overseen by Trish Conroy, who has a wonderful eye for decor and detail. Sitting right at the heart of Cashel, like some glorious French chateau, its restoration and re-opening will be a great boost for the town, which receives so many tourists on their pilgrimages to the famous 'Rock'.
Across the water, posh pub dining is all the rage now with top hotels like Claridges having had a New York Irish pub pop up with The Dead Rabbit, in its iconic Art Deco bar; The Langham opening The Wigmore on Regent Street, with a menu by Michel Roux junior, and our own Richard Corrigan opening Dickie's Bar at his eponymous Mayfair restaurant. Gastropubs are beginning to drift a bit, like the old pub grub places of yore, and we are going to see them having to up the anti, tarting things up with a bit of luxury, as well as smarter food, wines and cocktails.
With the re-opening of Mikey's, the first part of the project, Brendan and I dropped in for lunch. The old bar is as glorious as ever and, and, with a whole new bright airy glass filled section reaching out into the terraced gardens, this is perfect posh pub territory. Of course, there's a horsey influence, with elegant equine symbols on the tableware, historic photos and a fantastic horsebox in the garden kitted out as a bar for al fresco days. Tipperary born chef Liam Kirwan has come home to head up the kitchen. With an interesting pedigree, having worked for great chefs such as Rowley Leigh, plus Jeremy Lee of the legendary Quo Vadis in Soho, he has also worked for the iconic Hawksmoor pub group, plus stints in diverse locations from Australia to the Caribbean and Portugal.