Our Latest Great Place To Stay & Eat - Eccles Hotel Glengarriff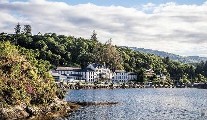 Friday 08 December 2017
Steeped in history, this iconic hotel has been welcoming guests for more than 250 years, under a variety of names, finally becoming the Eccles Hotel in the late 1800s. Over the years it has attracted famous names, WB Yeats, George Bernard Shaw, and, more recently Pippa Middleton. Despite beautiful refurbishment work, bringing the hotel into the modern era, it still retains that inimitable old-world feeling from its balconied exterior to its classically cool drawing rooms, bedrooms and restaurant.
For the adventurous sorts, there are endless activities to partake in as you explore this beautiful part of the country, with horse-riding, fishing, sailing, cycling and golf, along with lots of walks, sight-seeing trails and pretty local villages to explore. While you're there, be sure to take the short ferry trip to Garinish Island and explore its wonderful 19th century Italian Gardens or maybe head out to Seal Island and watch those happy, slappy, cheeky creatures at play.
However, If you're less focussed on the 'wild' part of the Atlantic Way, then perhaps you'll fancy a booking at Eccles' relaxing and restorative Treatment Room, which offers a whole range of ways to pamper and primp. Their popular VOYA treatments utilize hand-harvested organic seaweed for anti-aging facials, hydrating body scrubs or even a classic seaweed bath.
At Eccles, there are 64 tastefully appointed guestrooms, all of which are en-suite, with many offering breathtaking views of the bay. All rooms include TV, phone, hairdryer, tea and coffee facilities, as well as complimentary WiFi, but, if you really want to push the boat out, check out their fantastic Yeats Suite. Spacious and bright, you can take in the views from your own private balcony or, for some proper 'me-time', hop into the bubbling Jacuzzi bathtub and let the outside world fade away.