Restaurant Review - The Garden Room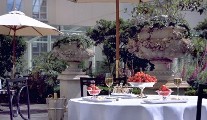 Wednesday 06 December 2017
For the past two decades, Dublin's 5-star Merrion Hotel has hosted everyone from Barack and Michelle Obama to Bruce Springsteen to the IMF team! Originally set over four splendid Georgian houses on Upper Merrion Street, facing Government Buildings, it pretty well had everything the discerning guest might want, save one thing – a good casual restaurant space. Of course, it has the sublime 2-Michelin-Star Restaurant Patrick Guilbaud, along with comfortable drawing rooms for afternoon tea and a popular basement bar with pub grub. But, no matter how you try to dress it up, their aptly named Cellar restaurant, aimed at mid-level dining, was a singularly dreary place, where people spoke politely in hushed tones and, which I imagine, many regulars will be glad to see confined to the realms of history.

Let there be light
Now, twenty year on, the Garden Room, approached through a new glass walkway, and overlooking the gardens and terrace, has just opened and, while it has the de rigueur posh and plush 5-star hotel feel, it quite literally throws a whole new light on their dining options.
East Cork man, Ed Cooney, the much-respected Executive Chef here, has been at the Merrion for many years, and I don't think anything would flap him, having coped with the foodie fads, diets and demands, of the rich and famous. For the Garden Room, he has come up with an extensive contemporary classic all day menu to appeal to all palates, that caters for those who want a couple of small plates, a burger, a steak, a decent tranch of fish or even fish and chips, with prices ranging broadly from €10-€40, apart from a Cotes de Boeuf to share at €70. There are snacks too at €5 a pop, plus Native and Gigas oysters at €3 each. The focus is on Irish produce, which also appeals greatly to visitors.
Chunky sole & beefy burgers
Starters included salmon and whitebait with smoked oyster mayo; tartare of knife-cut Irish rib-eye; Castletownbere king scallops, tuna and salmon ceviche with mango and pomegranate. My dining companion kicked off with two snacks – fingers of crispy pigs ears (€5), with buttermilk and tarragon dressing, which didn't appeal to him madly, but he did love three truffle arancini balls with Parmesan (€3). I loved my fritto misto (€12.50), a refined crispy combination of calamari, octopus, prawns, salmon and whitebait, topped with coriander cress, with smoked oyster mayo on the side.
A dozen mains, apart from the aforementioned steaks, had loin of Kilkenny veal paired with orange pepper, Jerusalem artichoke puree, sage veloute and crispy salsify; homemade papardelle with rabbit confit, pistachio and black olive jus; and poissons by way of lemon sole, wild halibut, cod, or Clare Island organic salmon, in various combos. My guest tried the gourmet beef burger (€18) with chips, both of which got full marks. A sizeable number with a good smokey grill flavour, it was clearly made in-house and he was able to state his preference for the way he liked it cooked. Grilled black sole for me (€40) was absolutely ace. A perfectly cooked chunky specimen, retaining the necessary bite, it was boned and served on creamed garlic baby spinach with a lemon beurre noisette.
Finishing touches
Anyone with a sweet tooth would be in dessert heaven, but, at €12/€15 each, you could certainly break the bank. After the substantial sole and burger, we refrained, but just to tickle your taste buds, let me tell you Anjou pear cake had a Champagne cream, while chocolate fondant was with honeycomb ice-cream and caramelised pecans, and salt caramel tart had popcorn ice-cream and dark chocolate crumble. If you just want a morsel of sweet or savoury to finish off, petits sucres at €6/€7 offered Madeleines, mini macaroons, coconut truffle, while Irish cheeses were €3.50 each.
The wine list covers all levels very ably, with lots of wines available not only by the glass but by the 50cl carafe, which is just perfect if you don't really want a bottle. This was the route we took with a Domaine Ste Cecile, Sauvignon Blanc 2016 at €28 – by the bottle €33. So, with a large bottle of water (€5.50) and service, which was totally professional and charming, out bill came to €125.50.
The Garden Room,
The Merrion Hotel,
Upper Merrion St, Dublin 2.
Tel: (01) 603-0608
thegardenroom.ie
lucindaosullivan.com
First Published In The Sunday Independent