Our Latest Great Place To Eat - Peachtree East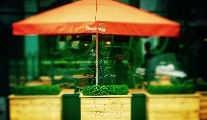 Tuesday 28 November 2017
Open throughout the day and offering a restaurant, cocktail lounge and coffee house, Head Chef and Proprietor, Paul Phillips, and his culinary team have made it their mission to provide "delicious and remarkable food and drinks" to all that walk through their doors, and, having created quite a buzz in the foodie world, I couldn't wait to try it out for myself. So, himself and myself hopped in the car and shot out the M50 in search of some Peachtree eats.
The restaurant itself is spacious and welcoming with a very pleasant and airy contemporary vibe. Lots of clean-cut wood finishes and a large window walled front giving it a very open and relaxed feel, while their upstairs cocktail lounge with its marble topped tables and cool hanging light fixtures offers a cool intimate air. There is also a roomy outdoor dining area to the front of the restaurant which would be perfect for those mid-summer days, whether it's for a good meal or a cocktail and some guiltless people watching.
On our dinnertime visit, a selection of starters included scallops with cauliflower and a citrus cardamom relish; ham hock with crispy egg and celeriac remoulade as well as their soup of the evening. I decided to try their potted salmon which was served up with a tasty shrimp butter and some spelt toast to the side. Meanwhile, Brendan quite fancied a goat's cheese terrine, which he enjoyed immensely with vine ripened tomatoes, basil and a side of sourdough bread.
For the mains, there was plenty to choose from, such as duck breast with salsify and wild blueberries or chicken supreme with gnocchi, wild mushroom and Romanesco. Their braised beef cheek was with red cabbage and parsnip puree, while a roast mixed nut loaf was being offered with a butternut puree and tomato chutney.