Restaurant Review - Host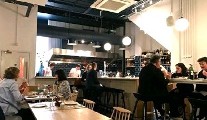 Wednesday 22 November 2017
"Have you a reservation?" Asked the meeter-greeter, swaggering towards us, iPad in hand, at the new Host restaurant in Ranelagh. "Yes", I said, confidently looking at the stretch of free tables along the banquette beside us. I had after all booked through their reservation service, Open Table. Our selected time of 7pm had offered a choice of seating – standard table, bar or counter– with the fourth option of 'high-top' not available at that time. I'd selected a standard table, also adding in the special requirements box that it be 'a nice table to the side, please'. I received a confirmation email of the booking for a "table for 2". However, to our amazement, he pointed us to a small narrow ledge in the front window with high stools facing out to the street, suitable only if one wanted a quick coffee or a glass of wine and the place was packed – it wasn't.
After some discussion as to our reservation, he eventually, very ungraciously, pointed us to a middle table for two on the banquette, adding "you can sit there for this evening but, for the future, we don't reserve tables. You can have it til 9pm." The arrogance was breathtaking, and, frankly, if I hadn't been working, I'd have walked. Sitting down, the girl at the next table leaned over and said that they'd had much the same unwelcoming experience. As she departed some 15 minutes later, quite unbelievably, this charmer returned and asked us to move lock stock and barrel to another table, as "he had 6 people coming in and wanted to incorporate our table". Expressing our upset, I told him quietly that he'd been very unwelcoming and he should think on what he had said to us. "It wasn't a booking, it was merely a preference." He replied. I asked him to desist, saying I'd heard it all now.
Catching our breath
Moved to another table, it was now 7.20pm, and we were under orders to be out by 9pm, we were quite shaken by the rudeness and it wasn't easy to recover the evening. The gig, food-wise, is 'small plates and quality cuts'. I asked a different guy waiting on the table who the owner was. He said it was the chef and a girl working on the floor, whose names he didn't know, but later found out. Small plates (€6-€11) included a half dozen Mediteranean tapas style dishes such as fried mozzarella and tomato, garlic mushrooms on toast or Burrata with smoked aubergine and radicchio, plus four pasta dishes, which could also be had as large plates (€13-€21). The 'cuts' were four (€18-€21), covering piri piri chicken, pork chop, sea trout and rump steak.
Racing the clock
We kicked off with the ubiquitous squid rings (€9) with a couple of chunks of green peppers, some mayo and lemon, and an overly charred chorizo sausage (€5.50) split lengthways and served with fried onion and another little dollop of the mayo. Following up with two small pasta plates, the first had thick ribbons of papardelle in a duck ragu (€11) while linguine was amply tossed with mussels and crab (€11), both of which were tasty.
Desserts (€6) were three – ginger bread with caramel and mascarpone, Affogato, or chocolate tart with pistachio yoghurt. We had the Affogato, two little scoops of hazelnut ice-cream and a little jug of coffee to the side, as well as the chocolate tart, which was absolutely delicious, served with pistachio ice-cream. It was now 9pm and, although no one else had entered since the party of six, and the place was half empty, I asked whether we had time to have a quick coffee (€6) at our precious table– we had! It seems the birds in the bush had not materialized.
A bottle in a message
With a delicious bottle of crisp organic Saladini Pilastri Falerio 2016 (€31), a blend of Passerina and Pecorino grapes from the March region of mid-eastern Italy, bottled water (€4.50), and service for the waiter, the bill came to €97.
The next day, I received a message from one of the owners, through the booking service, saying: "Hi Mary, (my pseudonym), I want to apologize for the mix up with your table last night. Your booking had been made with a seat request but unfortunately we missed this. I'd like to offer you a bottle of wine as an apology and would endeavour to offer you a much better service if you choose to return. I hope you enjoyed the rest of your evening despite this issue".
Host Restaurant,
13 Ranelagh, Dublin 6.
Tel: (01) 561-2617
hostrestaurant.ie
lucindaosullivan.com
First Published in the Sunday Independent