Our Latest Great Place To Eat - Truffles Restaurant & Wine Bar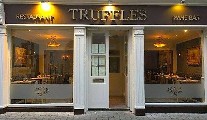 Tuesday 21 November 2017
It has been opened by Milko Mihaylov and his wife Zori, who are originally from Bulgaria. It's very comfortably laid out and I loved the fact that while it's billed as a restaurant and wine bar, there is a sense of formality with the waiters traditionally attired. I'm sick of going to places and having sloppy looking hipsters slapping plates down and saying 'there you go'. There's something lovely about a sense of really 'going out', and, as they demonstrate wonderfully here, it doesn't have to be overly pretentious.
There is an extensive menu, something for everyone at lunch and dinner, from Moussaka to suckling pig, duck two ways to saffron risotto and braised beef, pan-fried salmon to 9oz rib-eye steaks. We had the early bird menu with 2/3 courses, which featured eight starters, including beef carpaccio, smoked chicory, shaved Parmesan, rocket and walnut dressing, as well as salmon gravadlax; Kilmore Quay mussels; a faro grain salad of nutty cauliflower and chorizo; as well as the rather unusual Wicklow lamb faggot of heart, liver and breast. I kicked off with some very tasty spiced prawns, which had been tossed in white wine with a touch of chilli and garlic, centred with garden leaves and coriander salsa; while Brendan had an excellent duck terrine with crushed roasted pistachios, delicious fig chutney, and toasted sourdough.
Mains included a Provencale style roulade of lamb shoulder; wild mushroom and truffle risotto and catch of the day. I followed up with a delicious Fettuccine alla Contadina, ribbons of homemade pasta tossed in a delicious sauce of semi-dried tomatoes with fried capers, grilled aubergine, fresh parsley and shaved Parmesan, while Brendan had the bizarrely named 'Chicken on the Run', which had me visualizing some sort of deep fried wings but was in fact a rather elegantly presented breast of chicken, stuffed with black trumpet mushrooms, shallot marmalade, resting on piped whipped potato with a rich tarragon jus and pea shoots...