Our Latest Great Place To Eat - Masala - Indian Food To Go - Blanchardstown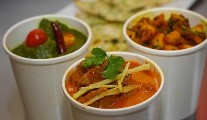 Friday 17 November 2017
Our passion for spicy food is ever-growing and the notion of the old bog standard Indian Takeaway has come along way with some of the newer ones offering superb restaurant standard food to eat at home.
'Masala' is the Hindi name of the Indian spices and this fab eatery specializing in top level Indian food 'to go', fulfills its promises to use those spices in just the right amounts, in just the right places.
The menu is a litany of fab regional Indian dishes such as Malabari chicken curry cooked in fresh coconut milk, with finely sliced ginger, green chillies and flavoured with cardamom and turmeric; a Manglor seafood curry of mussels, prawns and crab claws simmered in a smooth coconut & chilli masala spices; as well as a spicy South Indian vindaloo.
For my most recent order, I started with the Dhariwal chicken tikka, chicken breast cubes marinated with indian spices served with mint chutney and green salad, whilst Brendan went for their lamb chilli fry, delicious chunks of Irish lamb stir-fried with shallots and bell peppers. Also amongst the starters, you should definitely consider trying their Nawabi seekh kebab, which I've had before and is simply delicious.
For the mains, there is a fabulous selection to choose from whether you're a carnivore or a veggivore, but, on this occasion, I went for their mango prawn curry, a coconut and mango infused dish flavoured with south Indian spices and herbs and served with pulao rice.