Restaurant Review - Kilronan Castle Estate & Spa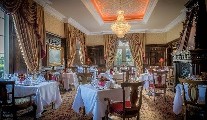 Wednesday 15 November 2017
Turning off the main road and heading for Ballyfarnon, through narrow roads of beautiful forested and lake areas, we were on our way to Kilronan Castle, which I had visited before, but which now has a new chef, David Porter, and his food has been attracting attention. As you swing through the gates and up the long wooded avenue, Kilronan stands proud over it's rolling acres where you almost expect to see Arthurian knights jousting and making merry.
It became a luxury castle hotel some ten years ago, and lives up to anyone's fairytale fantasies. The walls are heavily panelled, the stained glass windows are beautiful, a knight in armour lurks in a corner, and the drawing room cum bar with its big Inglenook fireplace is perfect for pre-dinner aperitifs (€11.90), which we had with a number of American guests who were loving it and also enthusing about the hotel's spa.
De-constructing dinner
We were there on an overnight rate of €140 pps, to include a 5-course dinner with a choice from the lavish a la carte. The atmospheric oak-panelled restaurant, overlooking Lough Meelagh, abounds with historic paintings, while the waiting staff were professional and friendly, quickly bringing a superb amuse bouche of de-constructed cheesecake in a glass.
This was not hipster Nordic fare but classy classic French style food with nods to current trends, and we were spoiled for choice. Starters (€8.50-€13.50) had breast of Wicklow wood-pigeon paired with summer truffles, raisin and pickled vegetables, while courgette and feta fritters were with fennel, natural yoghurt, black garlic and lemon cappuccino, and smoked sea trout offered a nod to Japan with tempura mussels, cucumber sorbet and soy gel. I had a superb presentation of Kilmore king scallops (€12.50 - €2.50 supp) interspersed with baby salt and pepper squid, fine asparagus tips, smoked rooster potato puree and an asparagus veloute. Brendan's duck tortellini (€12.50) was equally impressive with caponata, Castaing foie gras and aged Parmesan.
An intermediate course sported wild peach sorbet with peach gel and a green tea foam, or a fragrant duck broth (both €9.50). Brendan's sorbet was cool and pretty but the duck broth was exceptional. A duck and chive wonton sat in the bowl, surrounded by a rich deep Chinese style broth with divine flavours of ketjap manis and ginger.
The Fisher King
It was difficult too to choose from the mains (€24.50-€34.50). Fillet of beef also included a daube with celeriac, hispi cabbage and oxtail jus, while Thornhill duck breast had the sweet elements of beetroot, sweet garlic and blackberries. Organic lamb moussaka was with aubergine caviar, roast tomato and feta cream, but, in the end, I succumbed to that king of fish, turbot (€34.50 - €2.50 supp). A fine tranch, it was beautifully cooked – moist and firm with a lightly-crisped, classic French style, potato-scale topping. A real touch of luxury was added by lobster ravioli napped with lobster cappuccino, with 'foraged sea herbs' samphire and a type of sea spinach adding the greenery. Brendan's 'Chicken Dinner' (€24.50) was more than met the eye – a sort of smartly presented 'surf and turf' ballotine of chicken with honey carrots, salt cod fritters and truffle jus, which he enjoyed with a side of garlic potatoes (€4 supp).
Shocking desserts
Desserts were equally accomplished and had to be tried! Caramel Baklava (€8.50) came on a black plate with lemon gel, pistachio ketaifi and pistachio gelato, while almond financiers were glamour personified with shocking-pink Schiaparelli colours of raspberry powder, raspberry gel and espuma.
I'm seeing lots of increases in wine prices in middle of the road places, but we were in a castle with a list that was both extensive and approachable, with lots of choice under €40, many by the glass, and we were delighted with our Bestheim Riesling 2014 (€34) from the Alsace. The next morning we settled our bill of €334.90, and headed off to visit the nearby St. Ronan's Holy Well – who seems to have gotten around a lot because we've also admired his relics at Locronan in Brittany, where he once lived.
Kilronan Castle
Ballyfarnon,
Boyle,
Co. Roscommon.
Tel: (071) 961-8000
kilronancastle.ie
lucindaosullivan.com
First Published In The Sunday Independent