Restaurant Review - Truffles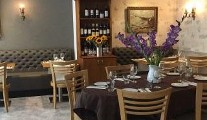 Wednesday 08 November 2017
Having a 'black and amber' heritage, I am always delighted to see the culinary scene in Kilkenny moving in the right direction, and so, it's terrific that, since 2014, there are two Michelin-starred restaurants in county – Garett Byrne and Brid Hannon's brilliant Campagne on Gashouse Lane in Kilkenny City and the Lady Helen at the fabulous Mount Juliet in Thomastown.
Also doing the city proud is the Cavaliere family's Ristorante Rinuccini, which, besides being probably the best Italian restaurant in the county, is one of the best restaurants in Ireland. Also top notch is Anocht at the Kilkenny Design Centre and La Perla at the Lyrath Hotel, while, keeping standards up, is the relatively recent opening of Kernel Bar and Kitchen by Chef Maria Raftery, doing excellent casual food. However, the most recent opening is that of Truffles on William Street, which I visited recently, in the premises that was the former Cafe Sol.
Sniffing out Truffles
Truffles has been opened by Milko Mihaylov, who was previously at Ristorante Rinuccini, and his wife Zori, who are originally from Bulgaria. It's very comfortably laid out and I loved the fact that while it's billed as a restaurant and wine bar, there is a sense of formality with the waiters traditionally attired. I'm sick of going to places and having sloppy looking hipsters slapping plates down and saying 'there you go'. There's something lovely about a sense of really 'going out', and, as they demonstrate wonderfully here, it doesn't have to be overly pretentious.
Roosters on the run
There is an extensive menu, something for everyone at lunch and dinner, from dishes such as Moussaka to suckling pig, duck two ways to saffron risotto and braised beef, pan-fried salmon to 9oz rib-eye steaks. There is also an impressive vegan and vegetarian menu, offering dishes such as Moroccan hummus; ratatouille or fried cheese truffles made from a selection of artisan fromages.
We had the early bird menu with 2/3 courses at €23/€28, which featured eight starters, including beef carpaccio, smoked chicory, shaved Parmesan, rocket and walnut dressing, as well as salmon gravadlax; Kilmore Quay mussels; a faro grain salad of nutty cauliflower and chorizo; as well as the rather unusual Wicklow lamb faggot of heart, liver and breast.
I kicked off with some very tasty spiced prawns, which had been tossed in white wine with a touch of chilli and garlic, centred with garden leaves and coriander salsa; while Brendan had an excellent duck terrine with crushed roasted pistachios, delicious fig chutney, and toasted sourdough.
Mains included a Provencale style roulade of lamb shoulder; wild mushroom and truffle risotto and catch of the day.
I followed up with a delicious Fettuccine alla Contadina, ribbons of homemade pasta tossed in a delicious sauce of semi-dried tomatoes with fried capers, grilled aubergine, fresh parsley and shaved Parmesan, while Brendan had the bizarrely named 'Chicken on the Run', which had me visualizing some sort of deep fried wings but was in fact a rather elegantly presented breast of chicken, stuffed with black trumpet mushrooms, shallot marmalade, resting on piped whipped potato with a rich tarragon jus and pea shoots.
Pearls of wisdom
Puds included chocolate tart; Madagascar pannacotta, a selection of ice-creams, cheese cake and 'not so traditional Madellenas'. We shared one dessert of Pearl Truffles, three sizeable balls of dates, figs and honey, each with a different coating – raspberry, white and dark chocolates – drizzled with more chocolate.
We stuck to wines by the glass, available in small and large sizes, and with a large glass of Tempranillo (€8.50) for Brendan and a small Riesling-Mosel (€8) for me, and a large bottled water (€5), our bill with optional service came to €79.50.
Truffles
22 William Street,
Kilkenny.
Tel: (056) 449-1480
facebook.com/TrufflesKilkenny
lucindaosullivan.com
First Published In The Sunday Independent